Hiroshi Yabu

Junior Principal Investigator Ph.D.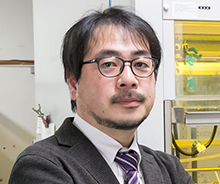 Job
Associate Professor and Junior Principal Investigator, WPI-AIMR
Group
Device/System Group
Laboratory
H. Yabu Laboratory
Address
Room 307, AIMR Laboratory Building, Katahira Campus
(2-1-1,Katahira,Aoba-ku,Sendai,980-8577)
Tel
+81-22-217-5996
E-Mail
hiroshi.yabu.d5@tohoku.ac.jp
Related Site
Research Interests
Preparation of nanostructured polymer particles by self-organization process (2005-)
Fabrication and application of honeycomb films by using condensed water droplets (2003-)
Preparation of organic-inorganic composites (2009-)
Synthesis and application of biomimetic polymer materials (2012-)
Synthesis of metal-complex catalysts for energy and chemical conversion systems (2017-)
Main Publication List
Bifunctional Rare Metal-Free Electrocatalysis Synthesized Entirely from Biomass Resources, H. Yabu, K. Ishibashi, M. S. Grewal, Y. Matsuo, N. Shoji and K. Ito, Science and Technology of Advanced Materials (STAM), 23(1) 31-40 (2022).
Bridging pico-to-nanonewtons with a ratiometric force probe for nanoscale polymer physics before damage, R. Kotani, S. Yokoyama, S. Nobusue, S. Yamaguchi, A. Osuka, H. Yabu, S. Saito, Nature Communications, 13, 303 (2022).
Amphiphilic Perforated Honeycomb Films for Gravimetric Liquid Separation B. Chen, T. Wada, H. Yabu, Advanced Materials Interfaces, 9(1), 2101954 (2022).
Pyrolysis-free Oxygen Reduction Reaction (ORR) Electrocatalysts Composed of Unimolecular Layer Metal Azaphthalocyanines Adsorbed onto Carbon Materials H. Yabu*, K. Nakamura, Y. Matsuo, Y. Umejima, H. Matsuyama, J. Nakamura and K. Ito, ACS Applied Energy Materials, 4(12), 14380-14389 (2021)
Fabrication of Nanostructured Composite Microspheres Based on the Self-Assembly of Polymers and Functional Nanomaterials, H. Yabu, Particles and Particle Systems Characterization, 36(9), 1900178 (2019).
Award
12th Bridgestone Soft Materials Frontier Award: Encouragement Award, The Society of Rubber Science and Technology, Japan (2021).
The Ichimura Prize in Science for Distinguished Achievement, The New Technology Development Foundation, Japan (2016).
The Young Scientists' Prize, The Commendation for Science and Technology by the Minister of Education, Culture, Sports, Science and Technology (MEXT), Japan (2014).
Konica Minolta Science and Technology Foundation Award, The Imaging Society Japan, Japan (2014).
CSJ Award for Young Investigators, The Chemical Society of Japan (2011).
Related Information