Block copolymers: Mimicking viruses
08/29/2017
Scientists are closer to synthesizing artificial molecular machines in the lab with the production of virus-like polymer particles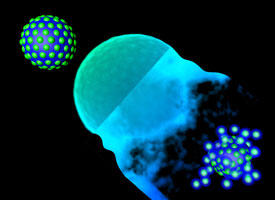 An AIMR researcher and two co-workers have successfully produced nanoparticles with virus-like properties by using a diblock copolymer — a polymer whose chains consist of alternating sections, or blocks, of two polymers1. Not only are these particles similar in size to viruses, they also have surface structures resembling those of viruses. This makes them promising for various applications, including vaccines, drug delivery and testing for infectious diseases.
A virus is essentially a piece of genetic material wrapped in a protein coat, which has a regular array of proteins protruding from it. Chemists have long desired the ability to make virus-like particles from synthetic polymers, as they would be useful as vaccines and for delivering genes or drugs. But it has proved challenging to control the stringing together of monomers — the building blocks of polymers — in the same way that nature does. It is also difficult to form structures consisting of different phases in nanoparticles.
Now, Yutaro Hirai of Tohoku University, together with Hiroshi Yabu of AIMR at Tohoku University and Takeshi Wakiya of Sekisui Chemical Co. Ltd, have realized this by making spherical polymer particles that have regularly arranged bumps on their surfaces (upper left of image) — just like viruses do.
The team achieved this by using a diblock polymer whose chains consist of alternating sections made up of polystyrene and poly(butyl acrylate) monomers. They were able to vary the shapes of the particles' surface structures by adding a third component to the mixture: pure polystyrene of different molecular lengths.
"These results are a significant step toward realizing synthetic molecular machines, which are expected to have a wide variety of applications," comments Hirai. "For example, antigens or antibodies can be fixed to the bumps by controlling their density. Such particles should enable efficient and highly sensitive immunological assays."
"Also, enzymes or catalysts can be attached to the bumps and then transported to specific sites in the body," continues Hirai. "Unlike conventional smooth nanoparticles, the density and position of the antibody or catalyst can be controlled and there is no danger of such molecules aggregating together."
Furthermore, when treated with acid, the virus-like particles disintegrated into daughter particles that were only a few tens of nanometers in diameter (lower right of image). This property also mimics viruses since they disassemble in response to environmental conditions in order to enter cells, which they subsequently infect with their DNA.
The team plans to phase-selectively modify the virus-like particles with catalysts or enzymes to achieve a higher chemical performance than conventional spherical particles.
References
Hirai, Y., Wakiya, T. & Yabu, H. Virus-like particles composed of sphere-forming polystyrene-block-poly(t-butyl acrylate) (PS-b-PtBA) and control of surface morphology by homopolymer blending. Polymer Chemistry 8, 1754–1759 (2017). | article
This research highlight has been approved by the author of the original article and all empirical data contained within has been provided by said author.