For Visitors
Visa
Visitors intending to stay in Japan for a short period (up to 90 days) without engaging in paid activities will require a short-term visa. However, if you are a citizen of a country that has a visa exemption arrangement with Japan, a visa will not be required. For details refer to the website at: http://www.mofa.go.jp/j_info/visit/visa/short/novisa.html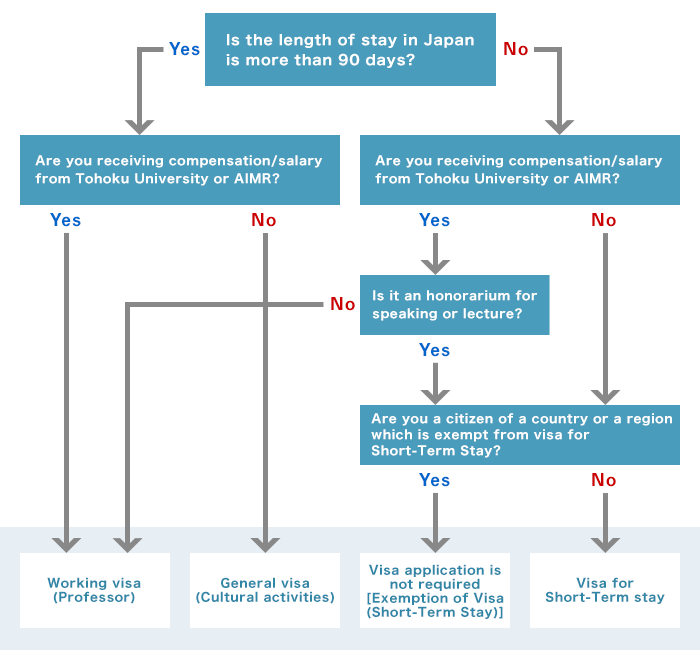 Even if the length of stay is shorter than 90 days, visitors to Japan who will be engaging in paid work must obtain a working visa. Those who will be involved in paid research activities at AIMR are requested to apply for a working visa under the category of "professor." Applicants making such application must apply, in advance, for a certificate of eligibility. The entire process will take about three months.
AIMR will act as a proxy to make an application to the Immigration Bureau of Japan on your behalf for the certificate of eligibility. The certificate will usually be issued one month or later from the application date. Upon AIMR's receipt of the certificate of eligibility, AIMR will send it to you via express mail together with other materials necessary for your visa application. When you have received these documents, please apply for a visa at your nearest Japanese Embassy or Consulate. Please note that the certificate will expire three months after the effective date, which is printed on the certificate. Following the submission of your application, you should receive your visa in a few weeks.
If your family will accompany you on your visit or stay in Japan, AIMR may be able help you apply for dependent visa(s) for your family members. Dependent visas have certain requirements. Please consult AIMR to discuss these requirements.
Related Information