Eiji Saitoh

Principal Investigator, Ph.D.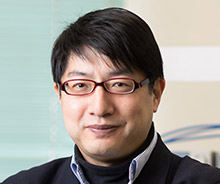 Job
Principal Investigator
Professor, The University of Tokyo
Group
Materials Physics Group
Laboratory
E.Saitoh Laboratory
Address
Office 301, AIMR Laboratory Building, Katahira Campus
(2-1-1, Katahira, Aoba-ku, Sendai, 980-8577)
Tel
+81-22-217-6238
E-Mail
eizi@imr.tohoku.ac.jp
Related Site
Research Interests
condensed matter physics in particular spintronics and correlated electron systems
Main Publication List
"Observation of orbital waves as elementary excitations in a solid"
E. Saitoh, S. Okamoto, K.T. Takahashi, K. Tobe, K. Yamamoto, T. Kimura, S. Ishihara, S. Maekawa, and Y. Tokura, Nature 410 (2001) 180-183.
"Current-induced resonance and mass determination of a single magnetic domain wall"
E. Saitoh, H. Miyajima, T. Yamaoka, and G. Tatara, Nature 432 (2004) 203-206.
"Observation of the spin-Seebeck effect"
K. Uchida, S. Takahashi, K. Harii, J. Ieda, W. Koshibae, K. Ando, S. Maekawa, and E. Saitoh, Nature 455 (2008) 778-781.
"Transmission of electrical signals by spin-wave interconversion in a magnetic insulator"
Y. Kajiwara, K. Harii, S. Takahashi, J. Ohe, K. Uchida, M. Mizuguchi, H. Umezawa, H. Kawai, K. Ando, K. Takanashi, S. Maekawa, and E. Saitoh, Nature 464 (2010) 262-266.
Award
Sir Martin Wood Prize (2008)
IUPAP Young Scientist Award (2009)
Young Scientist Award of the Physical Society of Japan (2011)
JSPS Prize, Japan Society for the Promotion of Science (2011)
Japan Academy Medal (2011)
25th IBM Japan Science Awards (2011)
Related Information