Research Strategic Plan
AIMR has established four materials research groups and Mathematical Science Group. Its aim is to promote fusion research and create innovative and functional materials.
Research Groups
AIMR is made of the following five research groups:
Materials Physics Group (Leader: Takafumi Sato)
Non-equilibrium Materials Group (Leader: Mingwei Chen)
Soft Materials Group (Leader: Tadafumi Adschiri)
Device/System Group (Leader: Shigemi Mizukami)
Mathematical Science Group (Leader: Hiroshi Suito)
Promoting Fusion Research
The specific research method employed by AIMR is an innovative atomic and molecular control method. Through this method, AIMR aims to promote research that encompasses the fields of physics, chemistry, materials science, electrical engineering, and precision and mechanical engineering, and to create new materials and compounds that are both innovative and functional. In particular, AIMR has positioned the following three points as its research goals.
To elucidate principles lying between structures and functional manifestation common to different kinds of materials and materials in different layers, and based on those principles, create highly practical materials
To establish new science principles in materials science and build a basis for predicting new functions and new materials based on the established principles
By achieving (1) and (2), create Green Materials that contribute to "Energy Harvesting," "Energy Saving," and "Environmental Clean-up"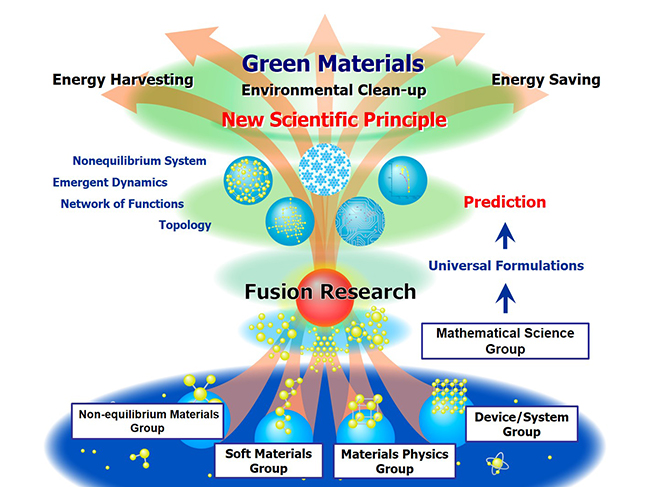 The research fields of AIMR consist of physics (traditionally very strong in Tohoku University), non-equilibrium materials (for which research by Tohoku University is leading the world), and devices/systems (credited with contribution to society). Moreover, taking into account the increasing importance of soft materials in materials research, AIMR has also placed a focus on strengthening the field of soft materials based on the disciplines of chemistry and bioengineering.
The aforementioned research groups implement joint projects and aim at achieving breakthroughs through fusion research. Although it is important, as a matter of course, for them to deepen their studies in each specific area or research field to produce cutting-edge results, discoveries of totally new phenomena and the creation of completely original ideas are often generated through the fusion of different fields.
Meanwhile, in our efforts to elucidate the mechanisms of functional manifestation and structure formation in research aimed at creating new materials using different kinds of materials, greater emphasis than ever before will be placed on identifying principles common to different materials and correlations between structures, functions, and layers. To achieve this objective, a mathematical viewpoint is added to identify common principles behind all kinds of materials and all layers and to elucidate common mathematical principles, as well as eventually to establish a new path to "materials science research with a mathematical viewpoint."
Research projects at AIMR are implemented with fusion research as the basic strategy.
Related Information