Shin-ichi Orimo

Director of AIMR, Ph.D.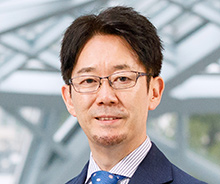 Job
Director and Professor, AIMR
(Concurrent Posts: Professor and Head of Section, Institute for Materials Research)
Group
Device/System Group
Laboratory
S.Orimo Laboratory
Address
Room 411, Integration Laboratory, Katahira Campus
(2-1-1, Katahira, Aoba-ku ,Sendai 980-8577)
Tel
+81-22-215-2093
E-Mail
shin-ichi.orimo.a6@tohoku.ac.jp
Related Site
Research Interests
Fundamental Study and Energy-Related Application of Hydrides
Development of High-Density Hydrogen Storage Materials
Development of Superionic Complex Hydrides
Fundamental Study on Hydride Superconductors
Design of Next-Generation Energy Devices
Main Publication List
Complex hydrides for hydrogen storage; Chemical Reviews, 107 (2007) 4111-4132; S. Orimo, Y. Nakamori, J.R. Eliseo, A. Züttel, C.M. Jensen.
Lithium fast-ionic conduction in complex hydrides: Review and prospects; Advanced Energy Materials, 1 (2011) 161-172; M. Matsuo, S. Orimo.
Complex hydrides for electrochemical energy storage; Advanced Functional Materials, 24 (2014) 2267-2279; A. Unemoto, M. Matsuo, S. Orimo.
Exceptional superionic conductivity in disordered sodium decahydro-closo-decaborate; Advanced Materials, 26 (2014) 7622-7626; T.J. Udovici, M. Matsuo, W.S. Tang, H. Wui, V. Stavila, A.V. Soloninin, R.V. Skoryunov, O.A. Babanova, A.V. Skripov, J.J. Rush, A. Unemoto, H. Takamura, S. Orimo.
The renaissance of hydrides as energy materials; Nature Reviews Materials, 2 (2017) 16091; R. Mohtadi, S. Orimo.
Award
Intelligent Cosmos Prize (2004)
Murakami Memorial Encouraged Research Award (2004)
Metals Meritorious Award, The Japanese Institute of Metals (2011)
Prize for Science and Technology (Research Category), The Commendation for Science and Technology by the Minister, MEXT (2012)
Science of Hydrogen & Energy Award (2015)
Related Information