Lithium-ion batteries: Grinding out a better battery
03/26/2018
By introducing atom deficiency, ball milling boosts the conductivity of a lithium borane material by 1,000 times, significantly enhancing its performance as a solid electrolyte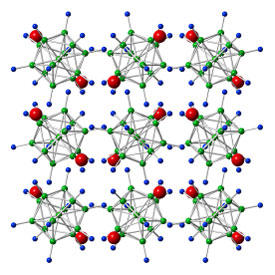 Simply grinding a lithium-based material can dramatically improve its conductivity, a study by AIMR and Tohoku University researchers has found1. This discovery could help to develop all-solid-state batteries that are safer and more efficient than conventional batteries.
Lithium-ion batteries are used to power everything from mobile devices to electric cars. Most commercial batteries use a liquid electrolyte to ferry charged lithium ions between the battery's electrodes during charging and discharging. But liquid electrolytes can leak and may be flammable, raising safety concerns.
Researchers are considering alternative solid electrolytes, including a family of materials known as closo-boranes. These materials have cage-like anions that contain boron, hydrogen and sometimes carbon. The spaces between these anions can act as conduction channels for lithium ions. But the anions also have strong bonds between boron and hydrogen atoms, making it difficult to modify the materials' structure to fine-tune their properties.
Sangryun Kim from the Institute of Material Research, Hiroyuki Oguchi from the AIMR at Tohoku University, and colleagues have now shown that introducing atom deficiency through ball milling — a method of mechanical grinding — can alter the structure of closo-boranes and enhance their conductivity.
They milled lithium dodecahydro-closo-dodecaborate (Li2B12H12) for 5 hours and then heated it to remove any trace of water. Analytical tests revealed that the material had lost lithium and hydrogen atoms and that some of the remaining lithium ions had been rearranged in its crystal structure. Computer simulations of the material confirmed that relatively little energy was needed to free small amounts of lithium and hydrogen in this way.
These structural changes meant that the remaining lithium ions were better able to hop between vacant sites in the crystal structure, improving the lithium-ion conductivity. Indeed, further experiments showed that the ionic conductivity of the milled material was almost 1,000 times higher than that of unmilled material.
The researchers then used the milled material as an electrolyte in a battery, sandwiching it between a negative electrode made of lithium metal and a positive electrode made of titanium sulfide. The device maintained a good energy capacity over 20 charge−discharge cycles, whereas batteries that used unmilled material had a smaller energy capacity and a poorer capacity retention after cycling.
The researchers hope that milling could be used to tweak the composition of other materials based on cage-like anions. "We will investigate systematic routes to forming atom deficiencies as well as the precise relationship between atom deficiencies and lithium-ion conductivity," says Kim. "Based on these fundamental insights, we will try to develop high ion-conducting hydride materials."
References
Kim, S., Toyama, N., Oguchi, H., Sato, T., Takagi, S., Ikeshoji, T. & Orimo, S. Fast lithium-ion conduction in atom-deficient closo-type complex hydride solid electrolytes. Chemistry of Materials 30, 386−391 (2018). | article
This research highlight has been approved by the author of the original article and all empirical data contained within has been provided by said author.