Yuichi Ikuhara

Principal Investigator, Ph.D.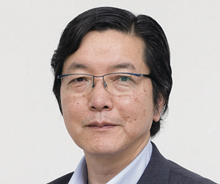 Job
Principal Investigator, AIMR
Professor, The University of Tokyo
Group
Materials Physics Group
Laboratory
Y.Ikuhara Laboratory
Address
Room 212, AIMR Annex Building, Katahira Campus
(2-1-1, Katahira, Aoba-ku ,Sendai 980-8577)
Tel
+81-22-217-5933
E-Mail
ikuhara@wpi-aimr.tohoku.ac.jp
Related Site
Research Interests
Scanning Transmission Electron Microscopy (1988-)
Crystal Interface and Grain Boundary (1988-)
Dislocation Technology (1988-)
Ceramics (1988-)
Main Publication List
"Direct observation of individual dislocation interaction processes at grain boundaries", S. Kondo, T. Mitsuma, N. Shibata, and Y. Ikuhara, Science Advances, Vol. 2, no. 11, (2016) e1501926.
"Misfit accommodation mechanism at the heterointerface between diamond and cubic boron nitride," C. Chen, Z. Wang, T. Kato, N. Shibata, T. Taniguchi, and Y. Ikuhara, Nat. Comm., 6 (2015) 6327.
"Atomistic mechanisms of nonstoichiometry-induced twin boundary structural transformation in titanium dioxide," R. Sun, Z. Wang, M. Saito, N. Shibata, and Y. Ikuhara, Nat. Comm., 6 (2015) 7120.
"Ferromagnetic dislocations in antiferromagnetic NiO," I. Sugiyama, N. Shibata, Z. Wang, S. Kobayashi, T. Yamamoto, and Y. Ikuhara, Nat. Nanotech., 8 (2013) 266-270.
"Nanowire design by dislocation technology," Y. Ikuhara, Prog. Mater. Sci., 54 (2009) 770-791 (Invited Review).
Award
Medal with Purple Ribbon (2016)
Sosman Award, American Ceramics Society (2015)
Academician, World Academy of Ceramics (2013)
Fellow, The American Ceramics Society (2011)
Humboldt Research Award , Alexander von Humboldt Foundation (2010)
Related Information