New center


Planting the seeds for brand new materials and technology
07/31/2017
Researchers at a new initiative, MathAM-OIL, are collaborating with both the AIMR and AIST to seed the development of clever materials for cutting-edge technologies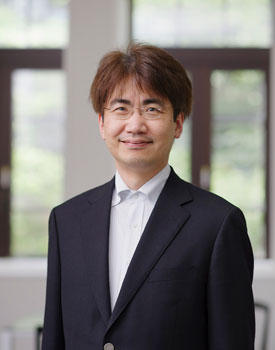 When two or more metals are mixed together, they often form alloys with properties superior to the individual metals. In a similar way, a new initiative known as Mathematics for Advanced Materials-Open Innovation Laboratory, or MathAM-OIL, combines the strengths of two research centers and promises to produce results that exceed their isolated efforts.
The new MathAM-OIL center is a bold collaboration between Advanced Institute for Materials Research (AIMR) at Tohoku University and the National Institute of Advanced Industrial Science and Technology (AIST). It is the third of about ten Open Innovation Laboratories (OIL) that are being established by the Japanese government. These laboratories are tasked with bridging the gap between academia and industry through collaboration with the AIST, a body set up by the Japanese government to integrate scientific and engineering knowledge.
MathAM-OIL was established in June 2016. Already, Chief Researcher Akihiko Hirata has been part of a study published in Nature in April 2017 on producing ultrastrong and yet ductile steel in which the expensive cobalt and titanium alloying elements are replaced with lightweight and inexpensive aluminum. This could have important implications for the automotive and energy industries, among others.
"We intend to make seeds for new technologies, which will fast track the industrial development of materials," says Takeshi Nakanishi, director of MathAM-OIL. "Since the researchers at MathAM-OIL are mathematicians and theoretical physicists, we won't actually physically produce any new materials. Rather, we will generate new concepts, functions and analysis methods for material structures."
Both the AIMR and the AIST bring their own unique perspectives to MathAM-OIL — the AIMR specializes in using mathematics to inform research into materials science, while the AIST uses computer-based design to produce materials that have exciting new functions. By collaborating with researchers from both institutions, mathematicians at MathAM-OIL will help to accelerate the development of next-generation advanced materials as well as create new fields of research that will aid industry. In particular, they will theoretically predict structures needed for realizing new material functions and then design novel materials based on these structures.
Using pure and applied math to look at materials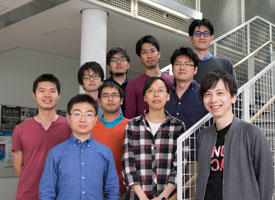 There are currently 12 postdoctoral researchers at MathAM-OIL who are working across a wide range of fields. Shin Hayashi is a pure mathematician with an interest in topology, the study of the properties of space that are preserved under continuous deformations. He is particularly fascinated by topological materials — work into which earned three physicists a Nobel prize in 2016. For example, topological insulators, which are a hot topic in materials science, conduct electricity on their surfaces but are insulators in their bulk. They have the potential to be used in new-generation electronic devices as well as in future quantum computers.
Hayashi really appreciates the diverse backgrounds of researchers at MathAM-OIL. "There are many researchers outside mathematics," says Hayashi. "Through interacting with them, I can understand mathematical problems that are important not just from a mathematical perspective but also from a broader scientific viewpoint."
His research is related to condensed-matter physics, which overlaps with chemistry, materials science and nanotechnology. "One big goal is to predict new types of materials," he says. Because of this, he hopes to form collaborations "with not just theoreticians but also experimentalists."
Yueyuan Gao, an applied mathematician, also finds the diversity at MathAM-OIL stimulating. Gao is using simulations based on 'stochastic phase-field' models, to study structures that are changing. "At MathAM-OIL, we have pure and applied mathematicians, theoretical physicists and experimentalists," Gao says. "Through seminars and discussions, we can share our different points of view, which exposes us to new ways of thinking and sparks new ideas."
Computer-aided materials science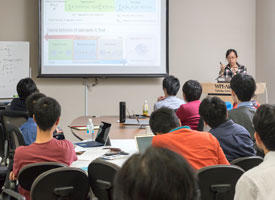 Computers necessarily play a key part in the research at MathAM-OIL. "Computer simulations are very important for studying advanced materials," Nakanishi explains. "MathAM-OIL will propose new simulation methods and also ways to automate the analysis of measured or calculated data using computers."
Since materials are very complex systems, experiments on them can generate an overwhelming amount of data. Researcher Satoru Tokuda specializes in information theory, a branch of applied mathematics that can help experimentalists make sense of the data they gather. One project he is working on is using machine-learning techniques to analyze data generated by angle-resolved photoemission spectroscopy — a technique material scientists use to measure electron energy bands in solid materials, which determine properties such as resistance to an electrical current.
Tokuda also values the wide range of backgrounds at MathAM-OIL. "Mathematics is helpful for understanding the mechanisms of machine learning, while physics often provides the analogies and motivations that help drive information science," he says. "An environment such as that at MathAM-OIL in which I can discuss common problems with mathematicians and physicists is really valuable."
Another researcher who is using computers to explore materials is Uyen Tu Lieu. She is using computer simulations to examine the formation of soft materials — useful for personal care and cleaning products among other things. In particular, she is working on the self-assembly of anisotropic colloidal particles and their self-assembly behavior. Lieu is also interested in the flow of matter in a liquid, soft solid or specialized solid state in mixtures in which microscopically dispersed insoluble particles are suspended in another substance.
Like her colleagues, Lieu enjoys working at MathAM-OIL: "MathAM-OIL is a great lab. The working environment is intellectually stimulating. The people at MathAM-OIL have different backgrounds and disciplines, including mathematics, physics and engineering. They thus have different interpretations, points of view and ideas on the same problem."
Having an impact on industry
An important goal of MathAM-OIL is to act as bridge between academia and industry. "We intend to achieve this through the AIST," explains Nakanishi, who notes the AIST's strong ties with commercial companies. "Universities and the AIST have very different cultures, but collaborative laboratories such as MathAM-OIL can play a vital role in bridging the divide."
Many of MathAM-OIL's proposed projects involve materials useful to industry such as metallic glass, which can be strong and very malleable. Metallic glass has been hailed as a potential wonder material for decades, but requires further research. It is currently used to make golf club heads. Others at MathAM-OIL want to study ion transport in the materials used in batteries. Some want to study active or smart materials that change their color, stiffness, transparency and shape in response to a signal or stimulus.
Just over a year since it was established, MathAM-OIL is already showing signs of being a very promising amalgam with the potential to generate synergies between the academic research being conducted at the AIMR and the more industrially focused work being done at the AIST.