International exchange


A new center of excellence in nanotechnology in China
11/28/2016
AIMR researchers visited the Herbert Gleiter Institute of Nanoscience in China to exchange information and ideas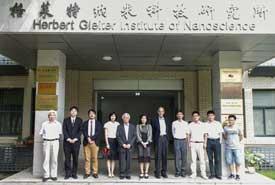 Herbert Gleiter was drawn to imperfections. At a time when most physicists were fixated on the perfectly ordered arrays of atoms in crystals, he got caught up in the defects, dislocations, grain boundaries and impurities. These deviations from a periodic arrangement of atoms, he noticed, gave materials interesting properties. By the 1980s, Gleiter had discovered a broad class of nanocrystalline — or nanostructured — materials, which contained a variety of irregular arrangements of atoms. This discovery laid the foundation for experimental and theoretical studies in an entirely new branch of nanotechnology.
In October 2012, Gleiter, who is on the international advisory board of the Advanced Institute for Materials Research (AIMR) in Japan, as well as a senior scientist and former founding director of the Institute of Nanotechnology at Karlsruhe Institute of Technology (KIT) in Germany, was invited to become the director of a new institute at Nanjing University of Science and Technology (NJUST). The Herbert Gleiter Institute of Nanoscience (HGI) focuses on research into nanostructured materials and devices, with a growing interest in an unusual type of glassy material known as nanoglass.
Mutual interests between the two institutes in China and Japan were the impetus for a visit by representatives of the AIMR in Sendai to HGI in Nanjing on 18 July 2016. The team included AIMR Director Motoko Kotani, Administrative Director Masaru Tsukada, Deputy Administrative Director Susumu Ikeda and several associate researchers.
Sendai to Nanjing
Gleiter kicked-off the exchange with an introductory presentation on the HGI. Five principal investigators lead three research themes at the institute: nanostructured crystalline and non-crystalline materials; chemical physics and functional nanobiosystems; and nanostructured metallic materials. HGI receives strong support from its host institution, NJUST, which is constructing a six-story building for the institute in Nanjing, a metropolis along the Yangtze River in eastern China. HGI is also expanding cooperation with NJUST, KIT, University of Münster, Shenyang National Laboratory for Materials Science and City University of Hong Kong.
Vice director of HGI, Jing Tao Wang, offered further details on the state-of-the-art facilities at HGI, which include a high-resolution scanning and transmission electron microscope, a scanning tunneling microscope, a helium-ion microscope and an X-ray computed tomography system with a spatial resolution of 50 nanometers.
Reciprocating these introductions, Kotani outlined the research activities at the AIMR, developments at the host institution, Tohoku University, and objectives of the World Premier International Research Center Initiative (WPI) program in Japan. She emphasized the collaboration between mathematicians and materials scientists at the AIMR and described current trends in data-driven materials science in the country, with a particular focus on the AIMR's role in these efforts, for example, through the Japanese government's Cross-ministerial Strategic Innovation Promotion Program (SIP).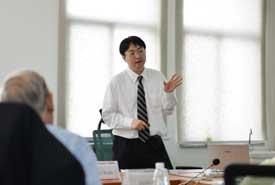 Nanoglass and 3D graphene
The meeting in Nanjing offered researchers from both institutes a chance to share their latest scientific finds. Tao Feng, permanent scientist at the HGI, discussed a material first created by Gleiter and a team of researchers in Germany in 1989 — nanoglass.
Crystalline materials such as granite and quartz have been popular since the Neolithic age because of their predictability. Researchers can control their physical properties by tweaking their atomic structures. But materials with disordered atomic structures, known as glasses, are much more difficult to manipulate. Nanoglass offers a way to control the chemical and physical structures of glasses due to its distinct nanostructures made of patches containing disordered clusters of atoms. Because the glassy regions do not quite match up where they meet, wide interfaces form between them, which influence the properties of the material. Feng described the techniques used to create these materials and some of their interesting thermal, magnetic and mechanical properties.
Glassy materials are also among the top areas of interest at the AIMR, and a strong source of collaboration between mathematicians and materials scientists. Recently, researchers have borrowed a mathematical concept known as topology to find hidden structures in the atomic arrangements of glasses.
Yoshikazu Ito, an associate professor at the AIMR, presented the result of three years of research into the development of another material with surprising abilities — highly crystalline, three-dimensional (3D) nanoporous graphene. The material behaves like two-dimensional, massless Dirac fermions, a characteristic previously not believed to be possible in 3D sheets of graphene. Ito is now trying to enhance the catalytic abilities of the 3D nanoporous graphene to facilitate the hydrogen evolution reaction in fuel cells. The material could be a promising alternative to noble metals such as platinum in realizing a hydrogen-fueled society.
Self-assembly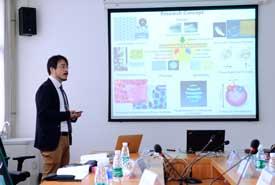 From novel materials to new ways of building them, permanent scientist at the HGI Qingmin Ji and associate professor at the AIMR Hiroshi Yabu shared their research into the spontaneous process by which structures form on the surface of materials, which gives them impressive abilities.
Ji recently joined HGI after working for several years in Japan at the University of Tsukuba, the National Institute of Advanced Industrial Science and Technology, and the National Institute for Materials Science. Ji's research focuses on the self-assembly of organic molecules on metal surfaces — useful for designing molecular machines — as well as the automatic formation of capsules of mesoporous silica, which could be used to gradually deliver drugs to the body over time.
Yabu has used the power of self-organization to fabricate polymer nanostructures, including those inspired by the natural world. His talk focused on diblock copolymers, which are made of a string of one type of monomer interacting with a string of another type of monomer. When the two units come together, attractive and repulsive forces interact to produce structures containing different states of matter. Collaborating with mathematicians at the AIMR, Yabu has recently discovered that mathematical formulas known as Cahn–Hilliard equations can be used to predict these structures.
Zesheng You, a permanent scientist at HGI, has taken a different journey into the nanoscale. He specializes in a mechanical property of nanostructured materials known as fracturing. The way a material fractures largely depends on its geometry and size. You is developing new methods for measuring these properties in nanomaterials, which has led to some intriguing observations. For example, the fracture properties of polycrystalline materials depend on the size of the individual crystallites.
The exchange meeting in Nanjing concluded with a consensus to collaborate in mutual areas of interest and a tour of the advanced laboratories and facilities. The AIMR and HGI hope to maintain a friendly relationship through cooperation and healthy rivalry.