Top-level interview


A decade of remarkable achievement
05/30/2016
This year, the AIMR marks ten years since its foundation. Former director Yoshinori Yamamoto and current director Motoko Kotani discuss AIMR's achievements over the past decade and its plans for the next stage of development.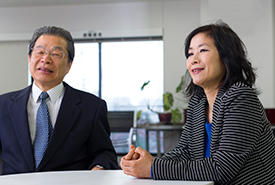 Yamamoto: It's been ten years since the AIMR was established. It's a real milestone. It generally takes at least a decade to achieve something innovative.
Kotani: At the AIMR International Symposium 2016 in February, many participants told us that the AIMR has a sharp focus. We continually asked ourselves, "What is the AIMR's identity?" This helped define our focus. It seems that it takes at least ten years for something to take definite shape.
Establishing AIMR's identity
Yamamoto: Initially, the AIMR's main focus was non-equilibrium materials, including metallic glasses ― one of Tohoku University's strengths. Research was conducted by drawing on the expertise of physicists and chemists. However, we wanted to adopt a more innovative approach. We deliberated a lot about what we could do.
While staring at the crystal structures of some materials, I wondered whether there might be some connection with geometry. That was when I read your paper. I remember being surprised that a mathematician was discussing materials. I asked you to become director, but you were very hesitant initially.
Kotani: Yes, I hesitated at first. But after listening to the researchers and realizing that the director's role is to assist in defining the direction towards mobilizing research, I thought there might be something I could do here.
Yamamoto: I recall telling you that we want to apply mathematics to create a new kind of materials science. I managed to convince you of our vision, and you became director of the AIMR in 2012.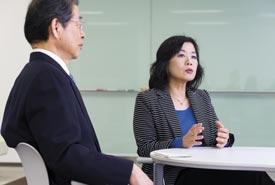 Kotani: I specialize in discrete geometric analysis, a branch of mathematics that analyzes how the discrete is linked to the continuous. The AIMR is investigating how discrete objects such as atoms and molecules control the continuous and large-scale phenomena of materials properties. It thus gave me a great sense of satisfaction to start working at the AIMR. The World Premier International Research Center Initiative (WPI Program) seeks to establish research institutions of excellence. We aimed to become a research center with exceptional originality, unparalleled in the world. Originality demands accepting the challenge of addressing something new.
You had set a very ambitious goal ― to create a new kind of materials science. I imagine it was extremely difficult to define your concept clearly. It took five years to clarify the concept and another five years for it to take shape. The WPI Program gave us the opportunity to achieve this.
Yamamoto: You adopted three target projects. I believe these were crucial for coordinating and aligning materials science and mathematics.
Kotani: Yes. As you mentioned, Tohoku University is strong in non-equilibrium materials research. So I chose research into the use of mathematics to control non-equilibrium materials as target project 1. Since Tohoku University also excels in spin research, for target project 2, I selected research into topological materials (which is based on a branch of mathematics called topology) to investigate spin. Target project 3 was a project using my own specialist area, discrete geometric analysis, to understand hierarchical structures. These three projects drove the activities of the second five years.
Some researchers investigate the characteristics of a material out of interest in the material itself, whereas others search for a material that satisfies certain target functions. In mathematical terms, the first approach deals with a forward problem while the latter one deals with an inverse problem. The collaboration of materials science and mathematics at the AIMR means accelerating and streamlining the conversion of knowledge that has been accumulated as a forward problem into an inverse problem. This is the most critical reason why we need mathematics.
Providing pioneering researchers with an arena for success
Yamamoto: When the MEXT announced the WPI Program ten years ago, I thought that it was wonderful. Japan suffers from its geographical position; our researchers have fewer opportunities for international exchange than their counterparts in Western countries. We applied for the WPI Program because we wanted to become a research center with a highly visible global profile and achieve a global exchange of expertise, including researchers from Europe and America. Establishing the AIMR as a WPI center brought positive outcomes for Tohoku University and the wider world. Within Tohoku University, interaction increased rapidly beyond department and institution boundaries. In particular, young researchers now hold discussions that transcend disciplinary barriers. Beyond the university, the concept of materials science founded on mathematics is gradually propagating. Even MEXT is broadcasting it.
Kotani: A huge achievement of the AIMR has been establishing a culture in which young researchers step out of their own laboratories and engage in lively discussions with researchers in other fields. And they see that this benefits their own research. When researchers from around the world visit the AIMR, they tell us that it differs totally from their image of a university. That means we have been motivating them to change their own research environment into something like what we have at the AIMR. We want to make it a spark that ignites a revolution of change in other universities. Leading on from the AIMR's experience, Tohoku University inaugurated the Organization for Advanced Studies last year.
Yamamoto: Interdisciplinary exchange has made great progress, but it's impossible to create a research center with a highly visible global profile overnight. After ten years, we have managed to make the AIMR highly visible.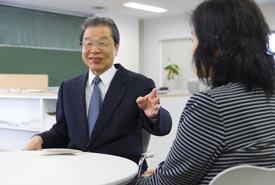 Kotani: In the context of a research center with a highly visible global profile, it was you who gave me the idea of forming joint laboratories. You laid the groundwork for setting up joint labs with the University of Cambridge, the University of California at Santa Barbara and the Institute of Chemistry, Chinese Academy of Sciences. These AIMR Joint Research Centers (AJC) have raised the AIMR's visibility internationally. How did you come up with the concept of joint labs?
Yamamoto: I wanted to create a network with the world. I decided to choose attractive research institutions. Since Tohoku University is a world leader in materials science, I thought that our core partners should be universities that are world-leading centers for materials science and that have a history of academic exchange with Tohoku University. These three AJCs have certainly increased the visibility of the AIMR.
Kotani: The excellent quality of research in Japan is acknowledged globally. We have original ideas. I believe the reason that these are not necessarily reflected in the number of citations and world university ranking is that a lot of collaboration is undertaken as joint research within Japan. Since there are many outstanding researchers in Japan, we can obtain good results just by conducting joint research within our own country. But to achieve further advances, we need to incorporate new perspectives. That's the purpose of international joint research. The bridge between Japan and overseas is where young researchers can play an important role. The AJCs enable us to employ young researchers through joint arrangements between the AIMR and overseas centers. For instance, young researchers belonging to the Cambridge AJC are jointly employed by the AIMR and the University of Cambridge. Because they belong to both institutions, they can come and go freely between Sendai and Cambridge and do their research. This joint employment, formed by breaking systemic barriers, originates from your joint lab concept. Professor Alan Lindsay Greer, head of the Cambridge AJC, recently said to us that the University of Cambridge would like to provide research funding so that we can expand the AJC research activities.
Yamamoto: Attracted by our idea, the historic University of Cambridge is thinking of extending the joint research center on their own. That is groundbreaking. Since such wide-ranging outcomes are being generated, we should really continue using the research center style adopted by the AIMR. Because the WPI Program establishes research centers, it also has to maintain them.
Kotani: After the initial sprint of ten years, the AIMR will now enter a new phase in which we will disseminate the results we have achieved. I have great hopes that young researchers, who have talked to researchers in different fields and discovered the benefit of original perspectives, will leave the AIMR to work in the wider world, extending their activities to the global arena. Ten years from now, when it is their turn to lead the scientific world, I think research of a totally different dimension will emerge. To provide an arena for researchers who take up the challenge to pioneer into a new realm of science, I think is where the AIMR will continue to offer its greatest value.