International symposium


Materials–maths fusion research enthuses symposium attendees
03/31/2014
The AIMR International Symposium (AMIS) 2014, held in Sendai on 17–19 February, showcased how the institute's unique brand of mathematics–materials fusion research is already making positive contributions to society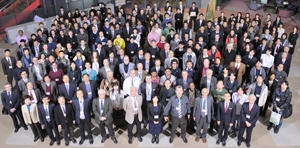 The main objective of AMIS 2014 was to share discoveries from the AIMR's recent institute-wide infusion of mathematics into materials science research while learning from other innovators in the field. Leading experts in materials science from Japan and overseas attended the gathering to explore the theme "Toward emergence of new materials science with mathematics collaboration." Preserving the strong international interest of the previous year, the 236 participating researchers represented 52 organizations and 13 countries.
Susumu Satomi, president of Tohoku University, welcomed the participants. In his address, he emphasized the crucial role of the AIMR in upholding Tohoku University's commitment to research by "creating a new paradigm of 'mathematics-driven materials science'". Satomi added: "In particular, materials science can contribute enormously to society, creating a basis for green materials and cultivating the potential of natural energy resources to resolve environmental problems." Essential to achieving this goal, he noted, was the AIMR's extensive global network, with 22 overseas partner institutions, including its AIMR Joint Research Centers at the University of Cambridge, UK; the University of California, Santa Barbara (UCSB) in the US; and the Institute of Chemistry, Chinese Academy of Sciences, China.
Speaking next, Akira Ukawa, deputy program director of the World Premier International Research Center Initiative (WPI), further underscored the importance of fundamental and innovative science for societal development. Ukawa highlighted the many ideas that have emerged from the reciprocal influence between mathematics and experimental science, such as the theory of relativity and quantum mechanics. "Mathematics and the sciences are most fruitful when they work together and collaborate together," he said. "So be ambitious. History is on your side."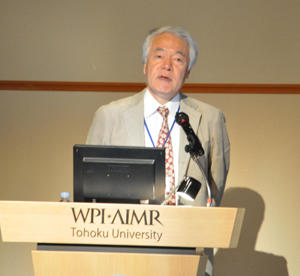 In her welcoming address, AIMR director Motoko Kotani shared the story of the AIMR's transition toward a collaborative materials and mathematics research culture, which she initiated in 2011. "It took us two years to reorganize our internal structures," she said. One of the critical moves was the establishment of three Target Projects, which use mathematics to clarify principles and mechanisms behind physical systems, and that were carefully selected for their potential to flourish in the new context of fusion research. These reforms have already enabled fluent interdisciplinary exchange, said Kotani, a trained mathematician herself. "We are very happy that, with this symposium, we can share some of our emerging results."
Powerful prose
The day's program proceeded with a series of invited speakers. Hirosi Ooguri of the California Institute of Technology, US, and the Kavli Institute for the Physics and Mathematics of the Universe, the University of Tokyo, drew on his decades of work at the interface of mathematics and theoretical physics to share some unexpected connections. "Mathematicians look for things that are universal. Physicists want immediate results," said Ooguri. Given the differences in the terminology, motivation and work habits of mathematicians and physicists, he stressed the importance of translating a problem from one 'language' to the other to improve the potential to find a solution.
Chemist Håkan Wennerström from Lund University in Sweden began by detailing findings on the non-equilibrium formation processes of mesoporous particles — materials that contain pores of 2–50 nanometers in diameter. Moving on to describe the presence of non-equilibrium systems at air–water interfaces where water evaporates, such as the surface of the skin or eye, Wennerström noted that understanding this phenomenon could translate into the improved delivery of drugs.
Speaking next was Steven Louie, a condensed matter physicist from the University of California, Berkeley in the US. Louie focused on his recent work on graphene, a material composed of an atom-thick sheet of carbon. Graphene is remarkably strong, light and transparent, and conducts heat and electricity with negligible resistance. Louie moved on to discuss findings on the optoelectronic properties of graphene, which will enable exciting new generations of electronic devices.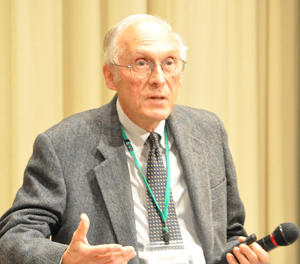 Presentations by the final two opening speakers demonstrated the powerful ability of mathematics to fuel discoveries in materials science. Physicist Qi-Kun Xue, vice-president of Tsinghua University in China and a principal investigator at the AIMR, related his experimental confirmation of the quantum anomalous Hall effect in magnetic topological insulators — something that had previously been only a theoretical conjecture. "This observation completes all the three quantum Hall effects," noted Xue.
James Langer, a theoretical physicist from the UCSB, wrapped up the opening session by offering insight into the dynamics of glass using a mathematical model. "The glass bubble is the most incredibly beautiful, important and deep mystery that faces us in classical physics these days," said Langer. To address this challenge, "we have to focus on really simple and realistic models of glass-forming materials."
Small energy: big impact
AMIS 2014 spanned 3 days and featured 6 plenary sessions, 4 parallel lecture tracks and a poster session. A total of 32 scientists from 6 countries spoke about subjects ranging from non-equilibrium systems and mathematics to soft materials and energy materials, while almost 100 posters revealed the latest findings from researchers at the AIMR.
Masaru Tsukada, administrative director of the AIMR, brought the events to a close. In his presentation, he introduced a fourth Target Project — Core Technology for Nano Energy Devices — newly created to ensure the transfer of materials science research for the benefit of society. The project will develop systems for renewable energy applications and innovative processing technologies for sustainable, green materials. In his valediction, Tsukada extended an invitation to all participants to return to Sendai for next year's symposium, AMIS 2015, scheduled to be held on 17–19 February.
The symposium marks the end of another busy year for the AIMR. "When we first embarked on our reorientation, the WPI's progress report said that while our proposal was attractive, they were concerned about whether our plan could be realized," reflected Kotani, speaking after the event. "This year, the report notes that the AIMR has progressed much faster than expected." Among its many achievements in 2013, the institute published particularly novel research on bulk metallic glasses in Science. Kotani predicts that the AIMR's new direction will result in further breakthroughs in understanding of the structure and properties of a host of materials, including graphene, carbon networks and nanoporous gold. "We took the right direction," asserted Kotani. "This is one of our strong beliefs."