Featured researchers


Learning the difference
12/27/2010
At the WPI-AIMR, researchers are beginning to understand each other's strengths but there are still hurdles on the road to finding new functional materials
AIMResearch: Welcome everyone! Since the WPI-AIMR first started in 2007, the institute has been bringing together researchers from all over the world to work on new fields in materials science. How did you discover the WPI-AIMR at Tohoku University here in Sendai, and what kind of research are you now involved in?
Ken Nakajima: After finishing my PhD in polymer physics at the University of Tokyo, I took a postdoctorate position at RIKEN and then joined the Tokyo Institute of Technology as an assistant professor. I was actually born in Sendai though, and Tohoku University is known as one of the best universities in Japan. I joined the Soft Materials Research Group at the WPI-AIMR and am now an associate professor.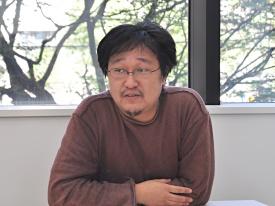 AIMResearch: Are you glad to be back in Sendai?
Nakajima: I am honoured to be here. The WPI-AIMR has a unique organizational structure that gives me many new challenges. I get to work with many foreign researchers and they give me broad insights into science. I am now studying polymers and their mechanical properties using scanning probe microscopy (SPM).
Limei Xu: I came here by coincidence. I discovered the WPI-AIMR when someone passed me an advertisement for the institute while at a conference in Europe. I knew the WPI-AIMR was the world's leading research institute in materials science. I thought it might be good chance to shift my research direction to materials science, so I immediately applied.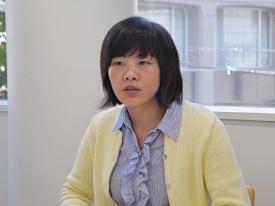 AIMResearch: Was the transition difficult?
Xu: My PhD at the Center of Polymer Studies at Boston University involved using statistical physics to study critical phenomena in glasses and polymers. Now I am an assistant professor working in the Bulk Metallic Glass Research Group at the WPI-AIMR. Materials science was new to me and the transition from polymers to bulk metallic glasses (BMGs) was not straightforward. Before, my study was more fundamental and the models I developed were for general materials. Here at the WPI-AIMR, researchers work with very specific materials. It is very difficult for me as a theoretician to come up with a model that incorporates the properties of all the different kinds of materials.
Kazunori Ueno: I did my doctorate study at the National Institute of Advanced Industrial Science and Technology (AIST) in Tsukuba. Professor Masashi Kawasaki, my boss now at the WPI-AIMR, was one of the principal investigators at AIST at that time. Because Tohoku University's Institute for Materials Research is very famous for research in material sciences, I decided to join Kawasaki's group at Tohoku University and do my postdoctorate here. Five years later, the WPI-AIMR was established, and I didn't hesitate to join.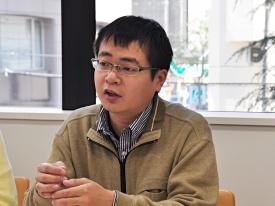 AIMResearch: What was the attraction of the WPI-AIMR?
Ueno: The new Materials Science Research Group was very attractive for me as a young scientist. I am an assistant professor working in the Materials Physics Research Group, where I study oxide materials and ceramics, particularly their applications in semiconductor devices, superconductors and field-effect transistors. I am currently trying to combine ceramics with organic materials to create materials with new properties.
AIMResearch: Doctor Caron, you were born in France? Why did you come to Japan?
Arnaud Caron: Yes, I was born in France. I came to Japan partly because of curiosity. I went to Germany to do postdoctoral study at the University of Ulm. Professor Hans-Jörg Fecht, my supervisor at that time, happened to be an adjunct professor at the WPI-AIMR. He suggested that I should apply for a position here. As a young researcher, I try to broaden my scope, and the WPI-AIMR is a very international institute where I get to interact with people from different fields and nationalities. I wanted to see something different to Europe and so I applied.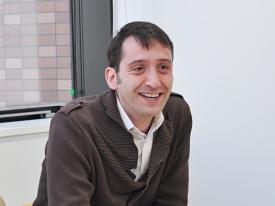 AIMResearch: What kind of research do you do at the WPI-AIMR?
Caron: I am a research associate working in the BMG Research Group. I use acoustic methods, such as ultrasound and near-field sound, to study the mechanical properties, particularly frictional properties, of BMGs. I did my PhD at Saarland University and a postdoc at the University of Ulm, both in Germany. Since I moved to the WPI-AIMR, I have been using SPM to study the mechanical properties of BMGs.
AIMResearch: What was the application process like?
Caron: The first thing I did was to send a CV and a cover letter to the WPI-AIMR. Then I met Professor Dmitri Louzguine, my present boss, in Sendai and we discussed what we could do together. He got quite interested. Three months after my application, I came to Japan.
AIMResearch: Does the WPI-AIMR provide assistance for foreign researchers?
Caron: Yes. They provide support for administrative issues, such as funding applications, and for our daily life. Whenever we have problems, we go to see Director Yoshinori Yamamoto or the institute's secretariat.
AIMResearch: Doctor Nakajima, could you tell me more about your current projects?
Nakajima: Polymers cannot be used as single-component materials. You need to mix a polymer with, say, another polymer or an inorganic material. In this case, the interface between the two materials becomes important. Doctor Xu and I are now studying the interfacial properties of polymers. I am also working with researchers on BMGs. We are planning to mix materials to make new functional materials. I am not sure if it will work, but this is our goal.
AIMResearch: Doctor Xu, could your model be applied to Dr Nakajima's work?
Xu: That is the dream! My model works well in theory, but I do not know how good it works for real materials. The advantage of my model is that it is quite general. However, there are some specific questions that I still need to answer. One of the biggest questions in materials science right now is how do we make stable BMGs — or in other words, BMGs that do not crystallize easily. My job is to provide the theoretical basis for finding such stable BMGs. My model shows that it is possible to make stable BMGs through polymorphisms, or glass–glass transitions.
AIMResearch: Doctors Ueno and Caron, could you tell me about your current projects? Who are you collaborating with at the WPI-AIMR?
Ueno: I am collaborating with Dr Akagi of Prof. Tsukada's group, who performs theoretical simulations of the interface between organic polymer and other materials. My device applications rely on the interface between ceramic and organic materials, so the collaborative study can provide invaluable information.
Caron: I am collaborating with Dr Nakajima to study friction in BMGs. BMGs have the potential to be used in microdevices, such as microelectromechanical systems (MEMS), so their properties on the microscale are very interesting. We study the frictional properties between silicon and BMGs and try to understand the role of the oxide layer, as well as the relaxation state of the BMG. Doctor Nakajima is bringing his experience in SPM to the experiment.
AIMResearch: How are BMGs used in MEMS?
Caron: BMGs can be processed in an undercooled liquid state. You can heat them up above the glass transition, and in the undercooled liquid state, they are really easy to form into devices such as microgears and cantilevers.
AIMResearch: What are your goals in the short term? What are some of the challenges?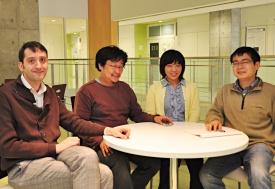 Nakajima: One of WPI-AIMR's missions is to bridge conventional disciplines, such as materials science, physics, chemistry and engineering, to create new functional materials — the so-called 'fusion research'. I think this is very important. We have people from the BMG group, semiconductor group, polymer group and soft materials group working together. This is a unique structure. The WPI-AIMR holds seminars regularly and we are starting to understand each other and the different disciplines. However, we are now beginning to realize the difficulty in doing fusion research. I think we will create something new in the future, but this is not something that happens overnight.
Xu: Yes, I know what you mean. It takes time. For me, I find that I have a very different background from most people here — they are more like engineers and I am more theoretical. There is a big gap. If I go to the seminar, I will get something, but it will not be on the same level as when I used to go to seminars in my field. The information I am receiving is huge. As a newcomer, it is difficult to get to the essential part immediately.
Ueno: The good thing about the WPI-AIMR is that the laboratory doors are always open. If I need to find someone to discuss something, I can reach them easily. In addition, my contacts at the WPI-AIMR are not limited to physics, but also include other fields such as biology and chemistry. This provides a good opportunity for me to broaden my scope and grow.
Caron: Even with institute members overseas, communication is still quite easy. There is Skype and email, and they visit several times a year. It is quite easy to discuss our research.
AIMResearch: Everyone, thank you for your time!