Roundtable discussion


Exploring a new concept of materials research (Part II)
08/31/2009
In Part II of the AIMResearch roundtable discussion among the directors and group leaders of Tohoku University's WPI-AIMR, the participants discuss fusion research, the challenges of raising the global presence of the institute, and their advice to young scientists — WPI-AIMR offers plenty of incentives for building meaningful career paths in advanced materials research.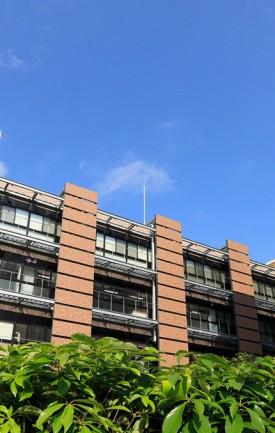 The preceding discussion can be found in Part I of this spotlight.
AIMResearch: Could I move on to the next topic; fusion research. What is it, and how was it created?
Yamamoto: People often talk about integration and collaboration of research, but rarely are they forced to action in this area. And they often haven't been satisfied with past collaboration efforts. We came up with the idea of 'fusion', which means close collaboration among different groups to produce scientific breakthroughs. The key to success is to make it a requirement for all researchers to be involved in fusion research. They want to continue their own research, which is familiar and interesting. But I tell them, "Please take some of the seeds of your research to be blended with seeds from other areas."
Miyazaki: By nature, the development of devices and systems is a product of fusion research. We cannot implement our work without the development of materials, or without the research undertaken by other groups. Fusion research has just started, but I've already had many proposals for collaboration from other groups.
AIMResearch: One of the WPI-AIMR's goals is to make the institute more globally visible. What are the major obstacles to achieving this?
Yamamoto: The difficult thing is hiring foreign researchers of distinction who can stay here for many months each year, not just for a week to attend conferences. This is my main task but it is not easy because the best foreign researchers are already established abroad and many have no particular urge to come to Japan. We are now in the process of recruiting such good scientists and setting up laboratories for them here.
Sakurai: US-based researchers in their mid-30s don't want to lose their visibility by coming to Japan for an extended period. After they return to their home country, they may not be able to get a better position. Another thing is the language barrier.
Yamamoto: Within the WPI-AIMR there are no communication problems as English is our official language. But you still need some Japanese language skill when you are out in the community.
Chen: Language is a key issue for young Japanese scientists as well. They have to read and write in English to get people to understand their research. When I came to Japan I had a difficult time getting the best Japanese research associates and students to be capable of communicating in English.
AIMResearch: It looks like Japan is a challenging place to live for foreign researchers. Professor Chen, what made you join the WPI-AIMR?
Chen: I actually appreciated the research system in Japan. In the US, research is a part-time job for faculty professors and they have to spend most of their time on teaching. In Japan, professors can hire research associates, and focus their attention on research. Also, the WPI-AIMR is equipped with the most advanced research instruments and runs cutting-edge research projects headed by principal investigators. It has an open and friendly research environment. This is the main reason why I came here, and I think young scholars would also be willing to join our institute. I have also had many opportunities to meet famous scientists invited by the WPI-AIMR for workshops and conferences. I'm enjoying my time with the WPI-AIMR very much.
Sakurai: The US is the best place to encourage young, bright people to start something new. But if you want to do something with a long-term view of 10–20 years and get into something deeply, the US system is not right. They complain that they have to change their programs every so often.
Yamamoto: At the WPI-AIMR, we have to search for a better system — neither a typical US system nor a traditional old-fashioned Japanese system. In my opinion, our WPI institute is a test case for the government. If we do very well over the next 10–15 years, the government would apply this approach to change the overall Japanese system in the future.
I'd also like to stress the fact that the WPI program is completely different from the existing Global Center of Excellence (G-COE) programs, which disappear after 5–10 years and all those involved return to their original institute. But the government does not intent to dissolve the WPI institutes. That's why they asked us to construct a new building. We will continue to exist.
AIMResearch: Are there any other incentives to come and join the WPI-AIMR?
Miyazaki: We can concentrate on research. When I worked for other institutions, I had to undertake various administrative and non-research tasks. We have no such tasks at the WPI-AIMR. However, we are not in a permanent position, so we always have to think about stepping up for the next role.
Hashizume: These days, young people tend to think conservatively and may have only a short-term perspective. Many of them try to continue their graduate research with the same research group. But young people should think more carefully about what they want to do by the time they reach 50–60 years of age, even though we could never know what will happen by that time. As Professor Miyazaki said, unlike many universities where assistant professors and the like are bothered with writing documents or other administrative tasks, at the WPI-AIMR they can devote themselves entirely to research in collaboration with a handful of postdoctoral researchers.
Sakurai: We can also offer a research grant of up to five million yen (US$50,000) to support a new research initiative based on a research proposal, which can be submitted at any time throughout the academic year. Research staff can also obtain financial support to attend international conferences, and can spend three to six months per tenure abroad in order to augment their research at the WPI-AIMR. The favorable fact that the WPI-AIMR is recognized for excellent research by global peers should make it easier for our research staff to obtain research positions elsewhere in the future once they have decided to move on.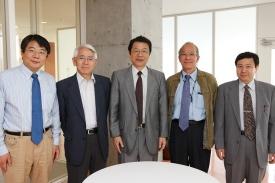 Yamamoto: Young researchers can use the WPI-AIMR as a valuable pathway for promotion to the next stage in their career. I believe young researchers have the freedom and flexibility for pursuing fusion and collaborative research within and outside the WPI-AIMR. Smart and proactive researchers can take advantage of the WPI-AIMR for future advancements.
AIMResearch: Thank you all for a very informative discussion.
About the WPI Initiative
In 2007, the Japanese Ministry of Education, Culture, Sports, Science and Technology (MEXT) established a program to strengthen leading research centers by providing each institute with substantial funding of ¥500 million (US$5 million) to ¥2 billion (US$20 million) a year for 10–15 years. In return, the World Premier International (WPI) Research Centers benefiting from this support are expected to create novel research systems and establish strong visibility in the global scientific community. For more information on the WPI initiative, please visit the WPI website.