Single-cell analysis: Double-barrelled probe for exploring single cells
12/26/2016
A dual-action imaging and sampling technique promises rapid mapping of gene expression variation within single cells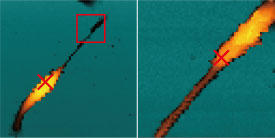 A double-barrelled nanopipette is the secret behind a new technique for sampling messenger RNA (mRNA) at different locations within a cell. By filling the two barrels with different liquids, AIMR researchers used the same nanopipette as a microscope tip for imaging a sample of cells and then as a sample-collection tip for extracting mRNA from sites of interest identified during imaging1.

The device has the potential to become a high-throughput way to measure how gene expression varies within single cells. This information will give scientists a better understanding of how cells function in different tissues.

The double-barrelled approach, developed by Tomokazu Matsue, Hitoshi Shiku and their colleagues of the AIMR at Tohoku University, combines a pair of techniques for imaging and collecting samples from single cells.

The first step is an electrochemical imaging technique that involves sweeping a nanopipette filled with an aqueous solution across a sample. Applying a voltage to the tip causes ions to flow from the nanopipette tip, but ion flow decreases as the tip approaches and passes over a cell. Thus, by detecting the ion flow, it is possible to construct a topographical map of the sample.

"The microscopy imaging technique is non-invasive, so we can take images without any stress to living cells," says Shiku, leader of the project in Matsue's group. "We can scan the cell surface at low magnification and then zoom in to obtain higher-resolution images to find a location where we want to collect cytoplasm."

The team's advance was to then collect the cell's cytoplasm using the same electrochemical instrument. By using a double-barrelled pipette, the researchers could fill the second barrel. After lowering the pipette until it punctured the cell at the site of interest, the team switched the applied voltage from positive to negative, which drew a minute volume of cytoplasm into the nanopipette for analysis.

Testing the technique on living mouse cells, the researchers were able to take mRNA samples at the periphery and near the nucleus of single cells, revealing differences in gene expression between these two locations. The scientists also succeeded in fully automating pipette movement for the sample-collection process.

So far, the team has detected only highly expressed genes using their two-step technique. "The next stage is to improve the technique's sensitivity and increase the types and numbers of mRNA molecules we can sample," Shiku says. The team also plans to adapt the technique to detect proteins and organelles within cells.
References
Nashimoto, Y., Takahashi, Y., Zhou, Y., Ito, H., Ida, H., Ino, K., Matsue, T. & Shiku, H. Evaluation of mRNA localization using double barrel scanning ion conductance microscopy. ACS Nano 10, 6915–6922 (2016). | article
This research highlight has been approved by the authors of the original article and all information and data contained within has been provided by said authors.