Metallic glasses: Thermal cycling is the secret to eternal youth
11/30/2015
The brittleness of metallic glasses can be readily alleviated by subjecting them to thermal cycling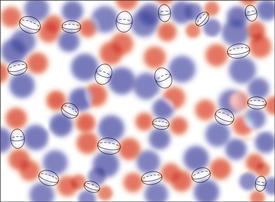 AIMR researchers have discovered that simply cycling the temperature of a metallic glass 'rejuvenates' it, making it less brittle1. This finding has important implications for the nature of metallic glasses as well as their applications, which include components in electronic devices, biomedical implants and sporting equipment.
Metallic glasses are so called because they are composed of metals but are simultaneously glasses, so that their atomic arrangement is closer to that of liquids than of conventional alloys, which have crystalline structures. This structure imparts metallic glasses with high strength and toughness.
However, metallic glasses generally become more brittle over time, and hence increasingly susceptible to cracking. This 'ageing' can occur at room temperature, but is accelerated at high temperatures, which is unfortunate because high-temperature processing can enhance their magnetic properties.
Now, an international team led by Lindsay Greer of the AIMR at Tohoku University has found an unexpectedly simple way to reverse this aging at any point during their use ― thermal cycling between room temperature and liquid-nitrogen temperature (77 kelvin).
This discovery sheds light on the structure of metallic glasses. If metallic glasses had truly featureless structures, such thermal cycling would have no effect. "A uniform material would expand and contract uniformly on changing its temperature," explains Greer. "The uniform expansion or contraction would be completely reversible and there would no changes in the material properties."
But to the researchers' surprise, they discovered that relatively gentle thermal cycling had very significant effects, equivalent to those of much more extreme processing. "The extra energy stored in a metallic glass sample after 10 cycles is of the same magnitude as that expected if a sheet of the same glass had been rolled (at room temperature) down to about only 20 per cent of its original thickness," says Greer.
Thus, metallic glasses cannot be completely homogeneous. "We are forced to conclude that a metallic glass is, in some way, non-uniform," says Greer.
The thermal cycling at low temperatures is thought to exploit tiny nanoscale variations in the structure of metallic glasses. These variations mean that when the temperature is cycled, different regions will experience different thermal expansions (see image), inducing internal stresses that irreversibly alter the atomic arrangement. Such rearrangements enhance the plasticity of the metallic glass, effectively rejuvenating it.
This finding opens up many possibilities, Greer notes. "Rejuvenation may improve other properties of metallic glasses. Also, the same technique may be applicable to other types of glasses, including conventional oxide glasses and polymer glasses."
References
Ketov, S. V., Sun, Y. H., Nachum, S., Lu, Z., Checchi, A., Beraldin, A. R., Bai, H. Y., Wang, W. H., Louzguine-Luzgin, D. V., Carpenter, M. A. & Greer, A. L. Rejuvenation of metallic glasses by non-affine thermal strain. Nature 524, 200–203 (2015). | article

Hufnagel, T. C. Metallic glasses: Cryogenic rejuvenation. Nature Materials 14, 867–868 (2015). | article
This research highlight has been approved by the author of the original article and all empirical data contained within has been provided by said author.