Polymers: Self-folding sheets wrap up droplets
10/26/2015
New geometric rules ensure that ultrathin polymer sheets encapsulate liquid droplets with optimal efficiency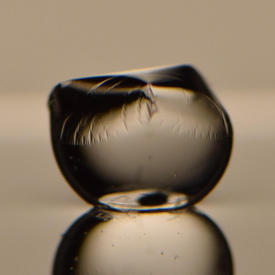 By using polymer sheets about 2,000 times thinner than a human hair, a team from the AIMR and the University of Massachusetts has developed a method for wrapping liquid droplets into folded, origami shapes that resemble stuffed foods such as samosas or dumplings1.
A technique known as capillary origami can be used to sequester toxic or corrosive liquids from their surroundings. When a liquid droplet comes into contact with a small rubbery plastic sheet, surface tension effects cause the corners of the sheet to spontaneously curl up and fold, thereby trapping the droplet. Depending on the initial polymer sheet design, this approach produces a multitude of origami shapes, such as flower petals and pyramids. However, the force needed to bend the elastic sheets limits the volume of enclosed liquid.
Now, Thomas Russell from the AIMR at Tohoku University and colleagues have investigated how capillary origami techniques perform when the energy costs of polymer bending are effectively removed. They used spin coating to produce an incredibly flexible polystyrene sheet approximately 100 nanometers thick. The researchers then carefully manipulated the ultrathin sheet until it rested on a water droplet immersed in silicone oil. To initiate the origami process, the droplet's volume was gradually reduced using a small straw.
The ultrathin sheet was nearly flat at the beginning of the experiment, but removing water caused the polymer to wrinkle, crumple and fold around the droplet (see image). This surprised the researchers as they had anticipated that the bendable film would simply conform to the droplet shape. "Trying to analyze these wrapped shapes appeared daunting at first," notes Joseph Paulsen, a co-author of the study. "However, we have shown that for very thin sheets you can simply ignore these complicated small-scale features and still predict the overall three-dimensional shape of the wrapping."
The team constructed a general geometric model that revealed the ultrathin sheets automatically optimize their wrapping shapes based on the volume of the liquid droplet. "The wrapper tries to enclose the maximum liquid volume in a fixed area of sheet, much like how stuffed foods try to enclose the largest amount of filling in a circle of dough," explains Paulsen.
The researchers found that these efficient wrappings also lower the pressure inside the droplets. The enclosed liquids are therefore protected from leaking into the surrounding fluid over long periods of time. "These sheets spontaneously select the shape that offers the best protection from outer fluids," points out co-author Vincent Démery.
References
Paulsen, J. D., Démery, V., Santangelo, C. D., Russell, T. P., Davidovitch, B. & Menon, N. Optimal wrapping of liquid droplets with ultrathin sheets. Nature Materials 14, 1206–1209 (2015). | article
This research highlight has been approved by the author of the original article and all empirical data contained within has been provided by said author.