Solar energy conversion: Full steam ahead for 3D graphene
08/31/2015
A renewable energy device uses sunlight to distill water into steam with an extra-high conversion efficiency thanks to the unique properties of nanoporous graphene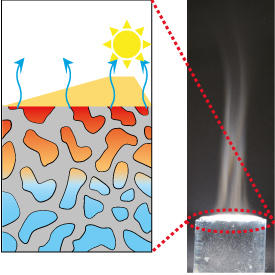 An eco-friendly steam generator powered only by sunlight that can purify brackish or polluted water has been developed by AIMR researchers1. This technology is based on a three-dimensional (3D) nanoporous graphene material that both captures light and moves water into local hot zones — a combination that converts sunlight into steam with a remarkably high efficiency of 80 per cent.
One of the simplest ways to harvest solar energy is to condense sunlight-heated water in a solar still — a transparent plastic sheet stretched over a pit in the ground, for example. To improve on primitive designs, researchers are investigating 'generator' nanomaterials made from graphite powders. These optically active materials absorb sunlight while floating on water and then release this energy as heat at interfaces between air and water where evaporation occurs. They also have large thermal insulating capabilities that minimize heat loss.
Yoshikazu Ito and Mingwei Chen with their colleagues from the AIMR at Tohoku University considered that even higher conversion efficiencies could be obtained by using graphene sheets in solar stills, as these two-dimensional, extremely lightweight supermaterials have record-breaking optical absorption and heat-retention properties. Unfortunately, the flat, hydrophobic nature of graphene sheets prevents them from operating as the sole component of solar harvesting devices.
The researchers overcame this problem by using a protocol they recently developed for turning flat graphene sheets into 3D frameworks. They deposited atomically thick carbon and nitrogen dopants onto smooth, nanoporous nickel templates and then dissolved the templates with acid. This strategy produced nitrogen-doped 3D nanoporous graphene structures, 35 micrometers thick and several centimeters wide, whose low densities enable them to float on water.
When the team tested this 3D nanoporous graphene in a solar still, they saw a 24 per cent jump in efficiency compared to that of carbon powders. High-resolution microscopy and thermal transport measurements revealed that a combination of factors caused this enhancement. The graphene units acted as a heater by absorbing scattered light, while the nanoporous structure localized the solar heat radiation and continuously pumped water to the air–water interface via capillary action. Furthermore, the nitrogen dopants helped water droplets stick closer to the carbon heat source, raising the evaporation rate (see image).
"Conventional carbon heaters have a powder-like morphology that is good at heat insulating, but poor at confining heat and pumping water," explains Ito. "Our 3D nanoporous graphene improves on these weak points for a completely clean renewable energy technology — it requires no electricity or fossil fuel."
References
Ito, Y., Tanabe, Y., Han, J., Fujita, T., Tanigaki, K. & Chen, M. Multifunctional porous graphene for high-efficiency steam generation by heat localization. Advanced Materials 27, 4302–4307 (2015). | article
This research highlight has been approved by the author of the original article and all empirical data contained within has been provided by said author.