Spintronics: Both sides polarized
07/30/2012
The finding that a spin effect — important in spintronics — can be present at both sides of a thin metal film suggests a route to a tunable source of spin-polarized electrons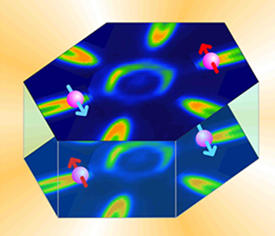 Spintronics is an emerging technology which exploits the intrinsic angular momentum — or, spin — of electrons for new efficient ways of storing and processing information. In contrast, in conventional electronics only the charge of the electron has a central role. A basic requirement for spintronics devices is the availability of electrons in well-defined, rather than random, spin states. Akari Takayama and colleagues from the AIMR at Tohoku University, together with collaborators from Osaka University, have now found an approach to producing such 'spin-polarized' electrons, with the important feature that the degree of spin polarization can be tuned1.
Traditionally, the production of spin-polarized electrons involved ferromagnetic materials, in which spins are naturally aligned. For device applications, however, electric fields are often preferred to magnetic ones. A general approach to the electric generation of spin polarization is through 'spin–orbit coupling', which connects the charge of an electron with its spin. One manifestation of spin–orbit coupling is the Rashba effect, in which electrons are polarized when certain types of asymmetries — typically found at the surface of materials — are present.
Takayama and colleagues have studied the Rashba effect in very thin films of the metal bismuth. They deposited films of thickness ranging from 16 to 80 atoms on a silicon surface. To their surprise, they observed in these samples that the spin-polarizing effect was at work not only on the surface, but also at the interface between the metal film and the silicon substrate (see image).
"This result was unexpected, as the simple Rashba picture suggests the existence of spin-polarized electrons only at the top surface of our samples," explains Takayama. Furthermore, the effects on the two sides of the film were found to interfere with each other. As a result of this interaction, the degree of polarization decreased when the sample was made thinner. "This is the most surprising result of our study: spin polarization can actually be tuned by varying the thickness of the film," says Takayama.
The researchers' choice of bismuth for their study was no coincidence. Spin–orbit coupling is particularly strong in materials made from bismuth or other heavy elements, such as gold or antimony. Now that Takayama and colleagues have shown that the degree of polarization is tunable through the thickness of the films used, materials such as bismuth hold even greater promise for future applications in next-generation spintronics devices, for enhancing spin-polarized currents, and for fundamental studies of novel quantum effects.
References
Takayama, A., Sato, T., Souma, S., Oguchi, T. & Takahashi, T. Tunable spin polarization in bismuth ultrathin film on Si(111). Nano Letters 12, 1776–1779 (2012). | article
This research highlight has been approved by the authors of the original article and all information and data contained within has been provided by said authors.