Micromirrors: Metallic glasses begin to shine
12/26/2011
The mechanical strength of metallic glasses makes them ideal components for micromechanical devices, such as rotating mirrors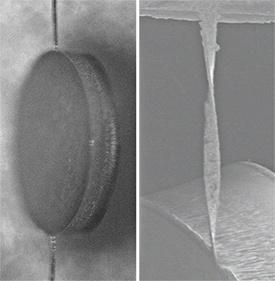 Silicon is traditionally the material of choice in micromechanical innovations. Complex sculptures are now fabricated onto silicon chips for new types of microscale devices, tiny silicon cantilevers are widely used as acceleration sensors, and micromirrors can be used to scan a light source across a larger area, such as in laser projectors or in endoscopes. The brittleness of silicon, however, limits the possible range of its applications. Jae-Wung Lee, Yu-Ching Lin and colleagues from the WPI-AIMR in collaboration with researchers from other institutions in Japan and Germany, have now used hard metallic glasses as a tougher alternative to silicon in the development of enhanced micromirrors1.
Although they look like any other metal, metallic glasses are not very different in structure from ordinary window glass. Unlike crystals, which have an ordered structure, the atoms of metallic glasses are randomly arranged, making them much stronger than silicon, or even some steels. They can bear heavier loads without starting to deform, and are thus ideal for micromechanical devices in which small components are repeatedly subjected to strong forces. Even after many operating cycles, metallic glasses remain largely intact.
The research team constructed a mirror structure by placing a round plate between two torsion bars that form the axis for the mirror's movements (see image). The torsion bars are entirely made of metallic glass, while the plate is a metallic glass film stabilized by a silicon frame.
The glasses' composition included substantial iron content to give magnetic properties. "This makes it possible to actuate the mirror by an external magnetic field, which simplifies the design and fabrication process of the micromirror," explains Yu-Ching Lin. The metallic glass has good elasticity and strength, allowing the mirror to reach large tilting angles. When in resonance with an oscillating external magnetic field, the mirrors followed the field and rotated more than 300 times per second without undergoing any damage. Tilt angles of over 70 degrees were demonstrated in this dynamic mode, and in larger static magnetic fields, the mirrors reached up to 270 degrees.
Further development is needed. "Many compatible micromechanical fabrication techniques for metallic glasses are still missing," says Lin. "Our next attempt is to develop etching technologies for metallic glasses to realize smaller and more versatile patterns." But with such unique mechanical properties, metallic glasses are poised to play a more significant role in micromechanical devices in the future.
References
Lee, J.-W. Lin, Y.-C., Kaushik, N., Sharma, P., Makino, A., Inoue, A., Esashi, M. & Gessner, T. Micromirror with large-tilting angle using Fe-based metallic glass. Optics Letters 36, 3464-3466 (2011). | article
This research highlight has been approved by the author of the original article and all empirical data contained within has been provided by said author.