Nanoclusters: Steel that breaks the rules
12/26/2011
Atomic imaging of nanoclusters gives greater insight into the remarkable strength and durability of strengthened steel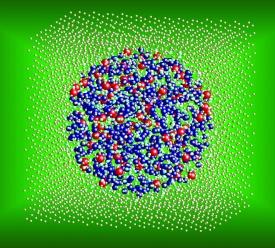 Following recent events, such as the nuclear accident at the Fukushima nuclear power plant triggered by the 2011 Tohoku earthquake, worldwide pressure is mounting to develop safer nuclear power facilities. The search is on for stronger, more durable materials with which to build structures that are able to endure extremely harsh or toxic environments. Some of the most promising candidates are 'oxide-dispersion-strengthened' (ODS) steels. ODS steels contain tiny nanoclusters within a steel matrix, and show an outstanding resistance to radiation damage and high temperatures — yet little is known about the internal atomic structures of these nanoclusters.
Using the latest microscopy technology, Mingwei Chen and Akihiko Hirata, together with colleagues at the WPI Advanced Institute for Materials Research at Tohoku University, Japan and the City University of Hong Kong, have now analyzed the atomic structures of oxide nanoclusters less than 4 nanometers in size found in ODS steels (see image), and have uncovered some surprising results1.
"We recognized that understanding the atomic structure of the nanoclusters is the most important task in the research of ODS steels," explains Chen. "This underlying crystal structure plays a crucial part in the amazing strength of these materials in harsh environments."
The researchers used Cs-corrected scanning transmission electron microscopy, with a resolution of about 0.1 nanometers, to identify complex atomic structures within the tiny oxide nanoclusters. The high level of magnetism present in the steels represented a challenge. "The magnetic steel matrix makes it difficult to image the clusters," explains Chen. "We minimized the magnetic effect by carefully preparing ultrathin samples about 5 nanometers thick."
Perhaps the most surprising result from the study is that the nanoclusters have very defective rock salt crystal (NaCl-type) structures, yet are incredibly stable at high temperatures. "This is a pretty interesting phenomenon," states Chen. "We know from thermodynamics that, in perfect crystal structures, lower total energy leads to a more stable phase. However, the nanoclusters in the ODS steels appear to show the opposite."
The data revealed that the atomic structure of small nanoclusters and larger nanoparticles present in the ODS steels both featured NaCl-like structures, but with important differences. "The unstable, coarsened nanoparticles possess a near perfect crystal structure, whereas the stable nanoclusters have a very defective one with a high percentage of vacancies," explains Chen.
The researchers believe that the defective structure might encourage greater affinity between the nanoclusters and the steel matrix, increasing overall stability under high temperatures and neutron radiation. The team intends to further examine other nano-strengthened steels in the near future.
References
Hirata, A., Fujita, T., Wen, Y. R., Schneibel, J. H., Liu, C. T., & Chen, M. W. Atomic structure of nanoclusters in oxide-dispersion-strengthened steels. Nature Materials doi: 10.1038/NMAT3150 (2011). | article
This research highlight has been approved by the author of the original article and all empirical data contained within has been provided by said author.