Atomic-scale imaging: Stepping up the pace
10/25/2010
An optical microscope that captures the dynamic motion of surface atomic layers provides a new tool for the atomic study of electrode materials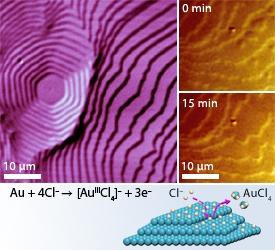 Electrochemical cells rely on conductive electrodes to convert chemical energy into electrical energy, and any flaws in these materials — such as etched or corroded metal surfaces — can detract from device performance. A good understanding of electrochemistry at an atomic level is needed to circumvent these issues, but such studies have always been challenging. Kingo Itaya and colleagues from the WPI-AIMR and the Department of Applied Chemistry at Tohoku University1 have now developed an optical technique that makes it possible to visualize gold electrodes in real time as they dissolve, layer by atomic layer.
Although scanning probe microscopes have been used previously to trace out atomically resolved images of metal electrode surfaces, these techniques have limitations. Imaging areas are typically only a few tenths of a square micrometer in size, and each scan takes several minutes, making it difficult to investigate the electrochemical reactions that take place across an entire electrode. The probe tip itself can also interfere with the surface processes.
To overcome these problems, Itaya and his team turned to a system that combines a laser confocal microscope (LCM) with a differential interference contrast microscope (DIM). In this method, a laser beam is passed through a series of prisms and polarizing filters that rejects all light except for that focused on a very tiny portion of the surface, producing an image with high depth resolution. By using mirrors to rapidly scan the beam over the sample, the LCM-DIM technique can build a three-dimensional surface representation in very short time.
The research team applied LCM-DIM to the visualization of gold surface layers, which consist of small 'terrace' domains with steps barely a quarter of a nanometer high. Resolving the individual layers required a few innovations: the team replaced the polymer coatings on the LCM-DIM filters with silver nanoparticle films to increase the light intensity by an order of magnitude, and they came up with a new method using a hydrogen–oxygen flame and spherical gold beads to create extremely smooth surfaces with more distinct terraces.
In just seconds, the LCM-DIM system provided clear pictures of the surface steps and terraces on the gold electrodes (Fig. 1). The team then observed in real-time the retraction of the atomic terraces as they dissolved when immersed in an acid chloride solution, representing the first direct observational evidence of the electrochemical etching mechanism.
"We believe that LCM-DIM could become the main technique for investigating electrochemical processes at solid/liquid interfaces," says Itaya, "potentially leading to improvements in systems such as lithium-ion batteries and wet-chemical processes for large-scale integrated circuits."
References
Wen, R., Lahiri, A., Azhagurajan, M., Kobayashi, S.-I. & Itaya, K. A new in situ optical microscope with single atomic layer resolution for observation of electrochemical dissolution of Au(111). Journal of the American Chemical Society 132, 13657–13659 (2010). | article
This research highlight has been approved by the author of the original article and all empirical data contained within has been provided by said author.