Polymers: Atomic mapping
09/27/2010
Atomic force microscopy reveals the true surface topography and nanomechanical properties of copolymer films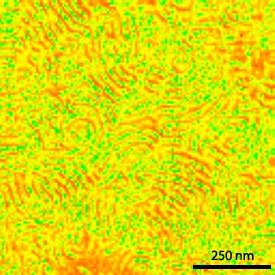 The physical properties of polymers are heavily dependent on their molecular structure, and much research effort is expended in obtaining a certain desired property, such as high strength or elasticity. Molecular structures are often tailored by preparing copolymers combining two or more different monomer building blocks. In one kind of copolymer called a 'block' copolymer, the different monomers form separate, homogeneous blocks rather than combining in a random arrangement. This block formation usually results in phase separation — the tendency for monomers to cluster with other monomers of the same type. Gaining insight into the specific physical properties of block copolymers therefore usually requires an understanding of the composition and properties of the separate blocks.
Dong Wang and co-workers from the WPI-AIMR at Tohoku University1 have now used atomic force microscopy (AFM) to map the mechanical properties of a block copolymer film. "Other techniques such as transmission electron microscopy have been used for a long time," explains Toshio Nishi from the research group, "but such techniques only provide information on the structure, not the physical properties." The radiation and staining techniques necessary for electron microscopy can also damage the polymer.
Atomic force microscopy involves scanning an atomically sharp tip across a material surface. The deflection of the tip provides a measure of the topography or surface shape with atomic resolution. "Our technique allows us to simultaneously measure the mechanical properties of the polymers, such as adhesiveness and the stiffness or Young's modulus, while at the same time mapping the topography of the surface," explains Nishi.
Earlier attempts to use AFM for this purpose have run into problems because of the tendency of the phases in block copolymers to separate. As softer materials like copolymers can be easily deformed, different phases tend to react differently to the AFM tip, giving a false impression of the topography. Nishi and his team were able to correct for this by measuring both the deflection of the AFM tip and the displacement of the scanner holding the copolymer sample. In doing so, they showed that the copolymer surfaces were much smoother than originally thought.
As the mechanical properties of the block copolymer components are well known, simultaneous mapping of the physical properties allows the light and dark regions in the AFM image (Fig. 1) to be assigned to the different phases of the block copolymers — an assignment that in the past has been made on a rather arbitrary basis.
References
Wang, D., Fujinami, S., Nakajima, K. & Nishi, T. True surface topography and nanomechanical measurements on block copolymers with atomic force microscopy. Macromolecules 43, 3169–3172 (2010). | article
This research highlight has been approved by the author of the original article and all empirical data contained within has been provided by said author.