Electronic devices: One-way magnetism enhances memory capacity
08/31/2009
A thin alloy film with one-dimensional magnetic properties could pave the way for higher capacities of nonvolatile memory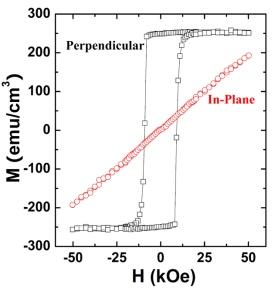 Magnetic random access memory (MRAM) consists of submicron-sized elements — magnetic tunneling junctions (MTJs) — that can be 'written' into one of two different magnetization states representing individual bits of information ('0' and '1'). The obvious way to increase memory capacity is to make these MTJs smaller, but this can also make them less stable.
Now, Feng Wu, Terunobu Miyazaki and co-workers at the Advanced Institute for Materials Research (AIMR) and the Department of Applied Physics at Tohoku University1 have developed a thin alloy film that could improve the stability of high-capacity MRAM by restricting the magnetization of MTJ memory layers to just one direction. The film could also have applications in spintronic devices, which exploit the intrinsic spin of electrons as well as their charge.
"Making smaller MTJs to support higher memory capacity has been a successful approach," says Wu. "Today, however, MTJs have become so small that further shrinkage would cause the magnetization of the individual MTJs to be unstable and flip spontaneously. So the memory would erase itself."
One way of getting round this problem is to use a material with perpendicular magnetic anisotropy (PMA). Such materials show a preference for magnetization in only one direction — perpendicular to the film. In PMA films, the memory bits are therefore more stable than usual against small, random energy fluctuations from the environment. What's more, MRAM based on PMA films with large spin polarization can be accessed faster than those based on existing small-spin-polarized PMA films because the MTJs have 'giant' tunnel magnetoresistance. "MRAM containing MTJs with a PMA memory layer is the most likely candidate for the next generation of universal memory," says Wu.
Wu's team fabricated their new PMA film from an alloy of manganese and gallium (Mn2.5Ga). They deposited one atomic layer at a time using a magnetron sputtering technique, which allowed the atoms to form a well-ordered tetragonal crystal structure. Interestingly, the alloy exhibits ferromagnetism even though its constituent metals do not.
"In our alloy, the distance between manganese atoms is much larger than that in manganese metal," says Wu. "Thus, ferromagnetic properties can be found. Our alloy is also predicted to have large spin polarization."
The researchers found that the Mn2.5Ga film only became magnetized when a magnetic field was applied at right angles to the film, indicating strong PMA (Fig. 1). The large spin polarization of this PMA film makes it ideal for MRAM and spintronic devices.
"Now, we are fabricating MTJs using this material as a memory layer, which is crucial for the realization of gigabit-class MRAM," says Wu.
References
Wu, F., Mizukami, S., Watanabe, D., Naganuma, H., Oogane, M., Ando, Y. & Miyazaki, T. Epitaxial Mn2.5Ga thin films with giant perpendicular magnetic anisotropy for spintronic devices. Applied Physics Letters 94, 122503 (2009). | article
This research highlight has been approved by the authors of the original article and all information and data contained within has been provided by said authors.