Superconductors: Poacher turned gatekeeper
06/29/2009
An insulating material has been converted into a superconductor using only an electrical field — without the need for chemical doping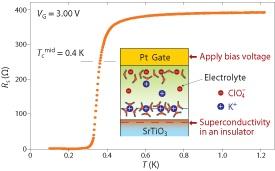 Superconductivity, the capacity of certain materials to conduct electricity with zero resistance and therefore no loss of energy below a critical temperature, is a physical phenomenon of profound importance with numerous scientific and practical applications. Superconductivity is controlled by the density of charge carriers within a material — electrons in the case of negative charge and 'holes' for positive charge. Typically, materials are converted into superconductors by introducing impurities into the crystal lattice by chemical doping. However, such modification is often irreversible, and inevitably introduces structural disorder.
An alternative approach for making superconductors involves tuning the density of charge carriers of a material by applying an external electric field. This method has made it possible to convert metals and chemically doped insulators into superconductors, but attempts with non-doped insulators have so far been unsuccessful due to the low charge densities in these systems. Now, a team of scientists led by Masashi Kawasaki and Kazunori Ueno from the Advanced Institute for Materials Research (AIMR) at Tohoku University1 have successfully used an electrical method to induce superconductivity in strontium titanate (SrTiO3), which is better known as an insulator. "This work is the first demonstration of converting an insulating material to a superconducting one purely by an electric field. That was dreamed by people for more than 50 years," says Kawasaki.
The researchers electrically doped SrTiO3 using a modified electrical method inspired by electrochemical cells. Writing in Nature Materials, the researchers describe their work in which they constructed an 'electric double-layer transistor' field-effect device. In a conventional electrochemical cell, an electrolyte is set between two electrodes, and the application of an electrical field across the electrodes leads to charge separation as the positive and negative ions within the electrolyte migrate toward opposite electrodes. The researchers modified this technique by replacing one of the electrodes with SrTiO3. When immersed in an organic electrolyte with a platinum wire electrode, the resistance of the SrTiO3 declined sharply at voltages above 2.5 V, showing that the system was behaving like a conducting metal. Upon dropping the temperature to 0.4 K — near absolute zero — the normally insulating SrTiO3 became a superconductor (Fig. 1). Examination of the SrTiO3 surface revealed that this transition is due to the accumulation of positive charge near the surface rather than to electrochemical reactions. Furthermore, this electrically doped SrTiO3 material exhibited superconducting behavior different from that of the chemically doped samples.
"Our study provides another way to search for superconductivity, and considerably widens the choice of candidate materials for possible new superconductors," says Ueno.
References
Ueno, K., Nakamura, S., Shimotani, H., Ohtomo, A., Kimura, N., Nojima, T., Aoki, H., Iwasa, Y. & Kawasaki, M. Electric-field-induced superconductivity in an insulator. Nature Materials 7, 855–858 (2008). | article
This research highlight has been approved by the authors of the original article and all information and data contained within has been provided by said authors.