Tomoki Ozawa

Junior Principal Investigator Ph.D.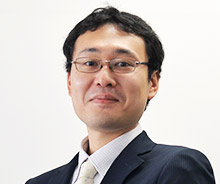 Job
Associate Professor (MEXT Excellent Young Researcher)
Group
Materials Physics Group
Laboratory
T. Ozawa Laboratory
Address
Room 4A, AIMR main building, Katahira Campus
(2-1-1,Katahira,Aoba-ku,Sendai,980-8577)
Tel
+81-22-217-5937
E-Mail
tomoki.ozawa.d8@tohoku.ac.jp
Related Site
Research Interests
Theoretical condensed matter physics
AMO physics (e.g. ultracold atoms, exciton-polaritons and photonics)
Topological insulators
Main Publication List
"Engineering geometrically flat Chern bands with Fubini-Study Kähler structure," Bruno Mera and Tomoki Ozawa, Phys. Rev. B 104, 115160 (2021).
"Topological Photonics", T. Ozawa, H. M. Price, A. Amo, N. Goldman, M. Hafezi, L. Lu, M. Rechtsman, D. Schuster, J. Simon, O. Zilberberg, I. Carusotto, Rev. Mod. Phys. 91, 015006 (2019).
"Topological quantum matter in synthetic dimensions," Tomoki Ozawa and Hannah M. Price, Nature Reviews Physics 1, 349–357 (2019).
"Synthetic dimensions in integrated photonics: From optical isolation to 4D quantum Hall physics," Tomoki Ozawa, Hannah M. Price, Nathan Goldman, Oded Zilberberg, and Iacopo Carusotto, Phys. Rev. A 93, 043827 (2016).
"Stability of Ultracold Atomic Bose Condensates with Rashba Spin-Orbit Coupling against Quantum and Thermal Fluctuations," Tomoki Ozawa and Gordon Baym, Phys. Rev. Lett. 109, 025301 (2012).
Award
Young Scientists' Award, The Commendation for Science and Technology by the MEXT (2021)
Young Scientist Award of the Physical Society of Japan (2021)
Ohbu Research Incentive Award, RIKEN (2020)
Outstanding Referee, American Physical Society (2017)
Vijay R. Pandharipande Prize in Nuclear Physics, University of Illinois at Urbana-Champaign (2012)
Related Information