Guanghui Cheng

Ph.D.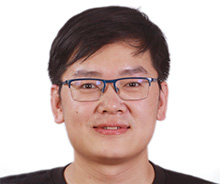 Job
Assistant Professor
Group
Materials Physics Group
Laboratory
Y. P. Chen Laboratory
Address
Room 5A, AIMR Main Building, Katahira Campus
(2-1-1, Katahira, Aoba-ku ,Sendai 980-8577)
Tel
+81-22-217-6160
E-Mail
cheng.guanghui.c2@tohoku.ac.jp
Research Interests
Quantum transport in 2D electron systems, e.g. graphene, topological materials.
Photonics and optoelectronics in novel semiconductors, e.g. transition metal dichalcogenides, III-V quantum dots, perovskites.
Main Publication List
Guanghui Cheng, Baikui Li*, Chunyu Zhao, Xin Yan, Hong Wang, Kei May Lau, and Jiannong Wang*, "Interfacially bound exciton state in a hybrid structure of monolayer WS2 and InGaN quantum dots", Nano Lett. 18, 5640-5645 (2018).
Guanghui Cheng, Wei Qin, Meng-Hsien Lin, Laiming Wei*, Xiaodong Fan, Huayang Zhang, Shangjr Gwo, Changgan Zeng*, J. G. Hou, and Zhenyu Zhang, "Substantially enhancing quantum coherence of electrons in graphene via electron-plasmon coupling", Phys. Rev. Lett. 119, 156803 (2017).