[5/28] The 36th "AIMR Tea Time Talk"
Speaker
Prof. Magda Titirici
(Imperial College London, Department of Chemical Engineering / PI of AIMR)
Title
Black is the new Green: Sustainable Carbon Materials for Transition to Net Zero
Date
May 28 (Fri.), 2021 17:00-18:00 on Japan Time (9:00-10:00 on British Summer Time)
Venue
Online (Zoom)
Abstract
Materials sustainability is particularly important when building future energy storage and conversion technologies. Such energy technologies are crucial to ensure the transition towards a zero emissions society but are relying heavily on materials. We must address the fine balance between the development of emerging energy technologies and the materials we use to build them. Today, scarce metals are the most important components of energy storage and conversion systems. Cobalt and graphite are in the cathodes and anodes of Li-ion batteries. With the accelerated development of Li-ion battery technologies, there is a huge demand not only for Cobalt and graphite but also for Li itself, which is geographically confined to Bolivia Chile and Argentina. Hence, we need innovative energy storage technologies beyond Li. Iridium and Platinum are the catalysts of choice for H2 production from water and its utilization in fuel cells to generate clean electricity. The current available supply for these metals cannot sustain the expansion of such technologies at a global scale. We need alternative electrocatalysts and sources for H2 production and H2 use in fuel cells. Gallium, Tellurium, Indium are used in solar cells and photocatalytic systems for solar fuel production. These materials are scarce, and alternatives must be sought for the next generation of solar panels and photocatalytic systems.
In this talk I will present some of our innovations in the design of sustainable materials alternatives to be efficiently utilized in energy storage and conversion technologies. Examples will range from efficient and sustainable batteries beyond Li to alternative catalysts to Pt for fuel cell's cathodes as well as alternative biowaste sources to water for the production of affordable and clean H2. A new family of photoactive nanomaterials made from biomass, i.e carbon dots, will also be discussed for potential use in solar H2 production.
Prof. Magda Titirici is a Professor of Sustainable Energy Materials at Imperial College London in the Department of Chemical Engineering where she is also the Director of Research.
Her research interests are in the area of sustainable materials for energy storage and conversion technologies with focus on batteries beyond Li, electrocatalysis for oxygen reduction and evolution reactions as well as biomass electrolysis.
Prof. Titirici has published over 250 papers in this area cited over 27.000 times and has many awards from Royal Society of Chemistry, Royal Academy of Engineering, Chinese Academy of Science, Institute of Materials and Mines, etc. She is an associate editor for J. Mater. Chem A with RSC and greatly collaborates with Wiley where she sits in many editorial boards (i.e, Advanced Functional Materials, Advanced Sustainability and Energy research, ChemSusChem and many mores). She is also passionate about outreach and a big promoter of equality and diversity in science and engineering working on many projects with Royal Society of Chemistry for a more diverse scientific community worldwide.
In April 2021, Prof. Titirici joined AIMR as Principal Investigator.
About Tea Time Talk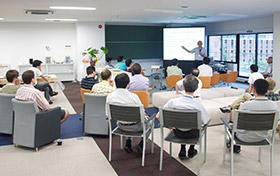 AIMR's Tea Time Talk is a kind of seminar aiming to promote exchange between world's eminent researchers and young researchers at AIMR, held in a relaxed atmosphere at AIMR's Friday Tea Time. The following researchers from around the world have given talks at this event so far, and participants have enjoyed discussion over a cup of tea.
| | | |
| --- | --- | --- |
| 36th | May 28, 2021 | Prof. Magda Titirici (Imperial College London, U.K.) |
| 35th | Mar. 26, 2021 | Prof. Yaroslav Blanter (Kavli Institute of Nanoscience, Delft University of Technology) |
| 34th | Oct. 23, 2020 | Dr. Kazuhito Tsukagoshi (PI:WPI-MANA, NIMS & AIMR) |
| 33rd | July 17, 2020 | Prof. Kaoru Tamada (IMCE, Kyushu University & AIMR) |
| 32nd | Jan. 17, 2020 | Prof. Miho Yamauchi (I2CNER / Kyushu University & AIMR) |
| 31st | Jan. 17, 2020 | Prof. Mickaël Lallart (INSA Lyon, Université de Lyon) |
| 30th | Oct. 25, 2019 | Assoc. Prof. Frédéric Gillot (Department of Solid Mechanics, Mechanical Eng. and Civil Eng., École Centrale de Lyon) |
| 29th | July 12, 2019 | Prof. Qian Niu (Department of Physics, The University of Texas at Austin) |
| 28th | May 17, 2019 | Prof. Damien Fabrègue (INSA Lyon, France / ELyT MaX Lab at Tohoku University) |
| 27th | Dec. 14, 2018 | Prof. Yukitoshi Motome (Department of Applied Physics, The University of Tokyo, Japan) |
| 26th | July 13, 2018 | Dr. Shimpei Ono (Central Research Institute of Electric Power Industry, Japan) |
| 25th | May 11, 2018 | Dr. Pierre-Antoine Geslin (Mateis lab, INSA Lyon/CNRS / ELyTMaX Lab at Tohoku University / Institute for Materials Research, Tohoku University) |
| 24th | Apr. 27, 2018 | Prof. Masaru Tsukada (AIMR, Tohoku University) |
| 23rd | Dec. 8, 2017 | Prof. Jean-Yves Cavaillé (INSA Lyon, France / ELyT MaX Lab at Tohoku University) |
| 22nd | July 28, 2017 | Prof. Nicolas Mary (INSA Lyon, France / ELyT MaX Lab at Tohoku University) |
| 21st | July 21, 2017 | Prof. Gael Sebald (INSA Lyon, France / ELyT MaX at Tohoku University) |
| 20th | July 7, 2017 | Prof. Arun Bansil (Northeastern University) |
| 19th | June 30, 2017 | Dr. Takeshi Nakanishi (AIST-Tohoku U Mathematics for Advanced Materials Open Innovation Laboratory (MathAM-OIL)) |
| 18th | June 23, 2017 | Prof. Denis Arčon (Jožef Stefan Institute, Slovenia) |
| 17th | Apr. 28, 2017 | Prof. Ayumi Hirano (AIMR, Tohoku University) |
| 16th | Nov. 29, 2016 | Dr. David Guy Austing (National Research Council Canada, Canada) |
| 15th | Sept. 30, 2016 | Prof. C. Suryanarayana (University of Central Florida, U.S.A.) |
| 14th | June 17, 2016 | Prof. Tomoteru Fukumura (AIMR, Tohoku University) |
| 13th | May 13, 2016 | Prof. Jean-Yves Cavaillé (ELyT MaX (Joint Lab at Tohoku University), University of Lyon, France) |
| 12th | June 26, 2015 | Dr. B. Muralidharan (Indian Institute of Technology Bombay, India) |
| 11th | June 27, 2014 | Prof. Michael B. Santos (The University of Oklahoma, U.S.A.) |
| 10th | Nov. 19, 2013 | Dr. Pawel Hawrylak (National Research Council Canada, Canada) |
| 9th | Oct. 1, 2013 | Dr. Yuan T. Lee (Nobel laureate in Chemistry, Academia Sinica of Taiwan) |
| 8th | June 28, 2013 | Dr. Bjorn Mysen (Geophysical Laboratory, Carnegie Institution for Science, U.S.A.) |
| 7th | Apr. 12, 2013 | Prof. Yiming Li (National Chiao Tung University, Taiwan) |
| 6th | Jan. 18, 2013 | Prof. Tomasz Dietl (Polish Academy of Sciences, Poland) |
| 5th | Aug. 31, 2012 | Prof. John H. Perepezko (University of Wisconsin-Madison, U.S.A.) |
| 4th | Aug. 17,2012 | Prof. Alain Reza Yavari (Grenoble Institute of Technology, France) |
| 3rd | Aug. 10, 2012 | Prof. Alan Lindsay Greer (University of Cambridge, U.K.) |
| 2nd | July 6, 2012 | Prof. Winfried Teizer (Texas A&M University, U.S.A.) |
| 1st | May 25, 2012 | Prof. Thomas P. Russell (The University of Massachusetts Amherst, U.S.A.) |
Contact
International Affairs Center (IAC), AIMR
| | |
| --- | --- |
| Address : | 2-1-1, Katahira, Aoba-ku, Sendai, 980-8577 |
| Tel : | +81-22-217-5971 |
| E-mail : | iac@grp.tohoku.ac.jp |