[12/10] IAC Orientation for International Researchers & IAC Japanese Class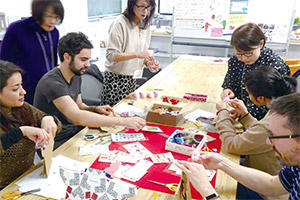 International Affairs Section (IAC), Tohoku University will hold the following events on December 10, 2019, in AIMR Main Building:
15:00 - 16:00: Orientation for International Researchers
16:00 - 17:00: IAC Japanese Class ~Cha-Chat J-Salon
We would like to organize approximately 60 minutes "Orientation" to introduce about the services provided by IAC and useful information of Tohoku University prior to the Japanese class. If you are interested in, please join us for the Orientation & IAC Japanese Class.
I am sure that it will be a good opportunity to build your new network in Tohoku Univeristy!
The detailed information
Date
Tuesday, December 10, 2019
Place
Combination room (5th floor), in AIMR Main Building
(Building #A, close to the North Gate)
Contents
Orientation

IAC Japanese Class : Cha-Chat J Salon

Time
16:00 - 17:00
Program

Topic:Japanese in traditional play
Culture:Let's enjoy Japanese traditional games in Japanese.

*Lesson fee is FREE!
How to apply
Please email to IAC ( iac@grp.tohoku.ac.jp ) with the information of your...
For Orientation: 1. name, 2. affiliation, 3. nationality, 4. date when you were appointed to TU
For Japanese class: 1. name, 2. affiliation
I would appreciate it if you could write which session you would like to attend (both (1) & (2) or only (1) or (2))
Deadline
Tuesday, December 3, 2019
We look forward to having you, your colleagues and your family on December 10. Should you have any questions, comments and concerns, please let us know.
Contact
IAC (International Affairs Center)