Reiko Oda

Principal Investigator, Ph.D.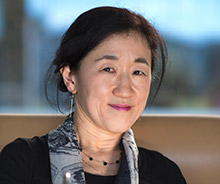 Job
Principal Investigator, AIMR
Group
Soft Materials Group
Laboratory
Reiko Oda Lab.
E-Mail
reiko.oda@u-bordeaux.fr
reiko.oda@cnrs.fr
Related Site
Research Interests
Colloid/Supramolecular chemistry
Molecular assembly
Chirality
Main Publication List
P. Liu, Y. Battie, M. Decossas, S. Tan, E. Pouget, Y. Okazaki, T. Sagawa and R. Oda, ACS Nano, 2021, 15, 16411-16421.
W. Yospanya, M. Nishijima, Y. Araki, T. Buffeteau, E. Pouget, T. Wada and R. Oda, Chemical Communications, 2020, 56, 10058-10061.
Y. Okazaki, T. Buffeteau, E. Siurdyban, D. Talaga, N. Ryu, R. Yagi, E. Pouget, M. Takafuji, H. Ihara and R. Oda, Nano Letters, 2016, 16, 6411-6415.
R. Oda, F. Artzner, M. Laguerre and I. Huc, Journal of the American Chemical Society, 2008, 130, 14705-14712.
R. Oda, I. Huc, M. Schmutz, S. J. Candau and F. C. MacKintosh, Nature, 1999, 399, 566-569.