Kazutoshi Inoue

Ph.D.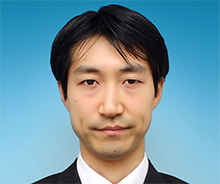 Job
Associate Professor, AIMR, Tohoku University
JST-PRESTO Researcher
Group
Materials Physics Group
Laboratory
Y.Ikuhara Laboratory
Address
Room 210, AIMR Annex Building, Katahira Campus
(2-1-1, Katahira, Aoba-ku ,Sendai 980-8577)
Tel
+81-22-217-5933
E-Mail
kazutoshi.inoue.a3@tohoku.ac.jp
Related Site
Research Interests
Geometry of crystalline interfaces and dislocations (2014-)
Analysis of atomic structure at crystalline interfaces by geometrical approach (2016-)
Main Publication List
Li, H., Saito, M., Chen, C., Inoue, K., Akagi, K., Ikuhara, Y. "Strong metal–metal interaction and bonding nature in metal/oxide interfaces with large mismatches", Acta Materialia, 179 (2019) 237-246.
Yin, D., Chen, C., Saito, M., Inoue, K., Ikuhara, Y. "Ceramic phases with one-dimensional long-range order", Nature Materials, 18 (2019) 19–23.
Inoue, K., Feng, B., Shibata, N., Kotani, M., Ikuhara Y. "Structure of <110>-tilt boundaries in cubic zirconia", Journal of Materials Science, 52 (2017) 4278-4287.
Inoue, K., Saito, M., Chen, C., Kotani, M., Ikuhara Y. "Mathematical analysis and STEM observations of arrangement of structural units in <001> symmetrical tilt grain boundaries", Microscopy 65 (2016) 487-487.
Related Information