International workshop


Taking spintronics for a spin
11/30/2015
A new center established by the AIMR and Tohoku University plays host to leading researchers in the field of spintronics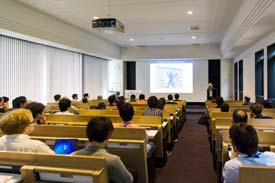 Spintronics, the study of electron spin, underpins the high storage capacities of today's disk drives and could lead to smaller, faster, more powerful and more efficient memory and computer processing technologies. Research into the elusive quantum mechanical property is accelerating, with new avenues for spin-based electronics suggested every year.
From September through to December, leading researchers, including Nobel laureates, participated in a series of events at Tohoku University aimed at plotting the course of spintronics research. The gathering was the result of years of advocacy by AIMR Director Motoko Kotani to create a space dedicated to entertaining visiting researchers and organizing interactive events.
"This style of institute is common in mathematics and theoretical physics and works very well for locating important emerging problems," says Kotani, referring to institutes in the US and Europe. "We set up the first such institute in Japan."
The Tohoku Forum for Creativity was established in 2013 with support from the Japanese government and semiconductor manufacturer Tokyo Electron. The spintronics workshop series follows a host of other events on black holes and brain science.
Mathematics explained
Kotani organized the first workshop of the series on October 5–9, which examined potential applications of a field of mathematics called topology for spin science. Topological insulators are novel materials that conduct electricity on their surfaces due to unique spin phenomena. These materials have topologically protected states, which are theoretically predicted by applying advanced mathematics. New discoveries in physics and materials science often inspire new mathematics, and vice versa. Kotani wanted to organize a workshop that would facilitate such happy encounters — an unusual new experience for some of the estimated 60 participants.
"As a mathematician, I was surprised to be invited," says Spyridon Michalakis from the Institute for Quantum Information and Matter at Caltech. But Michalakis quickly realized just how much he had to offer. "It seems that we have come to a place in mathematics where we can start giving good hints to the materials scientists about the kinds of structures to look for, or to create," he says. "We can even offer advice on how to probe these materials to get exotic properties that could be used for quantum computing, among other applications."
Mathematician Bruno Nachtergaele from the University of California, Davis, was also impressed by the design of the TOKYO ELECTRON House of Creativity, in which the forum is housed. The layout of the building encourages researchers to exchange ideas on wall-to-wall blackboards while enjoying a coffee or tea. "If you want mathematics explained to you then it is always good to have a blackboard around to jot down a couple of formulas and go through it in conversation," he adds. "Otherwise, it can be very difficult to penetrate a field that is not yours just by reading specialized papers."
Quantum nanostructures
The theme of the second workshop (October 19–21) was the emerging field of quantum nanostructures, focusing on the interaction between the electron and nuclear spin in such systems. Nuclear spin has been widely exploited in nuclear magnetic resonance (NMR) and magnetic resonance imaging (MRI) devices, but less so at the quantum level. "Understanding the physics of electron- and nuclear-spin related phenomena is vital for improving our understanding of the physics of quantum systems," explains Yoshiro Hirayama of Tohoku University, who organized the well-attended workshop with approximately 80 participants. "Potential applications of the technology include spin- and nuclear-spin-based quantum computing, which promises to be the next revolution in computing."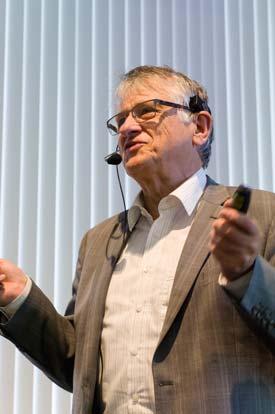 The highlight of the workshop was a fascinating, and at times humorous, talk by Klaus von Klitzing, winner of the 1985 Nobel Prize in Physics for his experimental discovery of the quantum Hall effect in quantum nanostructures. While there had been some theoretical studies prior to the discovery, von Klitzing's experiments revealed an unanticipated finding ― quantization with an extraordinarily high precision.
In his lecture, von Klitzing noted one surprising outcome of this field: the overhaul of the definitions of the international system of units. Instead of using objects or physical systems as the standards for physical units, units such as the kilogram, ampere and kelvin will be based on fundamental physical constants, such as Planck's constant, the elementary charge and the Boltzmann constant.
Hirayama invited von Klitzing based on a personal connection with him that extends back 25 years, but the new center also played a big part. "Thanks to the establishment of the Tohoku Forum for Creativity, it is now easier to invite Nobel-Prize-class researchers — something that has until now been very difficult," says Hirayama.
Many types of magnetism
Researchers attending the third workshop on November 16–17 discussed a lesser known entrant to the world of spintronics: antiferromagnetism. Unlike ferromagnets in which nearby spins tend to align in the same direction, antiferromagnets contain parallel but opposing spins. "This was the first international conference dedicated to the subject," say workshop organizers Oleg Tretiakov, a researcher at Tohoku's Institute for Materials Research (IMR), and Gerrit Bauer, who is affiliated with both the IMR and the AIMR.
"Antiferromagnets have an edge over ferromagnets," explain Tretiakov and Bauer, because they have zero net magnetization, and therefore do not produce unwanted stray magnetic fields. "But for the same reason it is difficult to control them using external magnetic fields." Recently, however, researchers have found a way to manipulate antiferromagnets using an electric current, which makes these materials potentially interesting building blocks for spintronic memories and logic devices.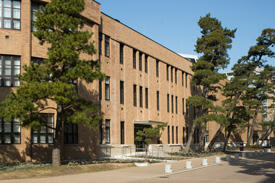 Since 2006, Tohoku's Research Institute of Electrical Communication (RIEC), headed by Hideo Ohno, who is also a principal investigator at the AIMR, has been organizing an annual international workshop on spintronics. The fifth workshop in the Tohoku Forum's series coincided with the 13th RIEC workshop (November 18–20).
Spintronics researchers at the AIMR and Tohoku are also using their expertise to pack thousands of transistors onto a single chip, known as very large-scale integration (VLSI) — the subject of a sixth workshop (November 20–21). The cost of shrinking transistors while continuing to enhance chip performance is high power consumption and signal transfer delays, says Ohno. Spintronics devices, however, could be used to make VLSI less power hungry while maintaining high performance.
"As current electronics based on semiconductors reaches the limits of its performance, a new paradigm is required," says Koki Takanashi, director of IMR, who is organizing the final workshop (3–4 December) on the interplay between spin, heat, electricity and motion. "Spintronics, which uses semiconductor and magnetic materials, offers great promise."