Nanomaterials: Supersizing at the nanoscale
07/26/2010
Polymer-based structures that bridge the nano- and microscopic scales can now be built from the nanoscale up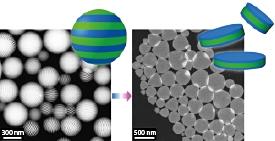 In a range of advanced technologies that deal with mechanisms on the molecular scale, such as molecular electronics and drug delivery, bridging the gap between nanoscale objects and larger devices is of key importance. Constructing suitable structures that can fulfill the roles of both nanoscale and bulk objects, however, has generally been performed by miniaturizing larger structures. A research team led by Masatsugu Shimomura and Takeshi Higuchi from the WPI-AIMR1 has now had success with the opposite approach — building structures from the nanoscale up by self-assembly.
Shimomura and Higuchi used an approach known as self-organized precipitation (SORP) to produce nanoscale aggregates from block copolymers — structures containing multiple distinct polymer subunits. Polymer aggregates or particles are typically prepared by emulsion polymerization, which involves the use of surfactant-stabilized oil in water. "But with that method, it is difficult to synthesize nanostructured particles," says Shimomura. "The SORP method, on the other hand, can produce block copolymer particles quite easily," says Higuchi.
The SORP technique exploits differences in polymer solubility between good and poor solvents. The researchers created polymer nanoparticles of polystyrene and polyisoprene by adding water to a solution of these two microphases in an organic solvent. Two days later, after the solvent had evaporated, the team reacted the nanoparticles with an oxidant, causing the polyisoprene to become insoluble while leaving the polystyrene portion of the particles intact. The two microphases could then be dissociated by adding the nanoparticles once more to an organic solvent.
Using block copolymers containing polystyrene and polyisoprene subunits of similar length, the researchers obtained suprapolymer structures consisting of evenly stacked and alternating polymer sheets. Imaging experiments revealed that the block copolymers first self-assembled into layered particles, which then dissociated into nanometer-sized disks of polyisoprene sandwiched between polystyrene layers (Fig. 1). In contrast, block copolymers with subunits of dissimilar length gave cylindrical polyisoprene nanoparticles coated with polystyrene chains.
Blends of the two individual polymers produced particles with two distinct hemispheres, known as 'Janus' particles, which dissociated on oxidation into the two constituent halves. "The Janus particles can be applied as pigments for electronic paper," says Shimomura. Mixtures of the polymer blend and the block copolymers, on the other hand, gave porous nanostructures, "which are applicable as carriers in drug delivery systems," says Higuchi. The team is currently working on assembling the nanometer-sized disks and cylinders into higher-order structures.
References
Higuchi, T., Tajima, A., Motoyoshi, K., Yabu, H. & Shimomura, M. Suprapolymer structures from nanostructured polymer particles. Angewandte Chemie International Edition 48, 5125–5128 (2009). | article
This research highlight has been approved by the author of the original article and all empirical data contained within has been provided by said author.