Nanotechnology: metallic glass nanowires
01/25/2010
Nanowires made from metallic glass are extremely tough and hold promise for a large number of nanotechnology applications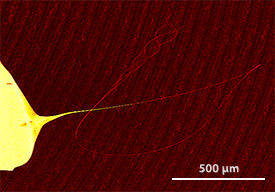 Metallic glass (MG) is a promising class of material that could find potential use in structural components for applications ranging from mobile phone casings to biomedical implants. At the same time, achieving MG structures on the nanoscale, which could lead to novel applications, has remained a challenge. Researchers from Tohoku University's Advanced Institute for Materials Research (AIMR) have now developed a controlled method for producing MG nanowires with very high mechanical elasticity and strength1.
Metallic glasses are amorphous — like window glass except that they are made from metal alloys. Even though their appearance is similar to that of crystalline metallic alloys, such as steel, their amorphous structure leads to a number of advantageous properties. For example, in steels and other crystalline metals, imperfections such as vacancies, dislocations and grain bounderies in the crystal structure are the main cause of mechanical failure. Owing to their amorphous structure, however, "MGs possess a combination of unique properties including ultrahigh strength, high hardness and high resistance to wear corrosion," according to Koji Nakayama, who leads the AIMR fusion research team.
Remarkable progress has been achieved in exploring alloy compositions that are best suited for the fabrication of MGs in bulk quantities — a requirement for practical utilization of these unusual materials. However, while achievements in this area have been significant, far less attention has been paid to MG nanostructures, such as ultrathin wires.
Metallic glass nanowires were first reported in 2008 by the same group while studying the compression of bulk MGs. The surfaces of bulk MGs typically get very hot during the fracture process, which leads to the formation of nanowires. Now, the researchers have developed a mechanism to draw MG ribbons in a much more controlled fashion. Their method is based on superplastic deformation, following a simple principle that glass blowers have been using for centuries. The MG is processed when it is still in a viscous liquid state and, with the help of a weight attached to the ribbon, drawn out into nanowires by a custom-made machine.
The nanowires obtained by this method display excellent mechanical properties — they can be bent elastically (Fig. 1) while overall retaining strength comparable to that of the bulk material. Furthermore, the versatility of the drawing process ensures that nanowires can be formed from MGs with a broad range of compositions. "In terms of applications, palladium-based MG nanowires could be used as sensors with high hydrogen sensitivity. Iron-based MG, on the other hand, exhibits soft magnetic properties that could be useful in ultrahigh magnetic-field sensors for biomagnetic measurements," says Nakayama.
References
Nakayama, K.S., Yokoyama, Y., Ono, T., Chen, M.W., Akiyama, K., Sakurai, T. & Inoue, A. Controlled formation and mechanical characterization of metallic glassy nanowires. Advanced Materials Published online: 2 Oct 2009 | doi: 10.1002/adma.200902295 | article
This research highlight has been approved by the author of the original article and all empirical data contained within has been provided by said author.