Kazuo Takimiya

Principal Investigator, Ph.D.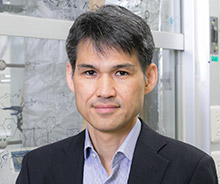 Job
Professor and Principal Investigator, AIMR
Group
Soft Materials Group
Laboratory
Takimiya Lab. (Organic Chemistry II)
Address
Room N707, Science Complex C, Aobayama Campus
(6-3, Aramaki Aza-Aoba, Aoba-ku, Sendai 980-8578)
Tel
+81-22-795-6585
E-Mail
takimiya@riken.jp
kazuo.takimiya.b6@tohoku.ac.jp
Related Site
Research Interests
Synthesis Methods for π-Conjugated Molecules
Physical Properties of Organic Semiconductors
Application of Organic Semiconductors for Electronic Devices
Crystal Structures of Molecular Solid
Main Publication List
"Disrupt and induce" intermolecular interactions to rationally design organic semiconductor crystals: from herringbone to rubrene-like pitched π-stacking, Chem. Sci., 11, (2020), 1573-1580, C. Wang, D. Hashizume, M. Nakano, T. Ogaki, H. Takenaka, K. Kwabata and K. Takimiya.
Naphthodithiophenediimide (NDTI): Synthesis, Structure, and Applications, J. Am. Chem. Soc., 135, (2013), 11445–11448, Y. Fukutomi, M. Nakano, J.-Y. Hu, I. Osaka and K. Takimiya.
Thienoacene-Based Organic Semiconductors, Adv. Mater., 23, (2011), 4347-4370, K. Takimiya, I. Osaka and E. Miyazaki.
Facile Synthesis of Highly π-Extended Heteroarenes, Dinaphtho[2,3-b:2',3'-f]chalcogenopheno[3,2-b]chalcogenophenes, and Their Application to Field-Effect Transistors, J. Am. Chem. Soc., 129, (2007), 2224–2225, T. Yamamoto and K. Takimiya.
Highly Soluble [1]Benzothieno[3,2-b]benzothiophene (BTBT) Derivatives for High-Performance, Solution-Processed Organic Field-Effect Transistors, J. Am. Chem. Soc., 129, (2007), 15732–15733, H. Ebata, T. Izawa, E. Miyazaki, K. Takimiya, M. Ikeda, H. Kuwabara and T. Yui.
Award
Clarivate Analytics Highly Cited Researchers (2018)
The Chemical Society of Japan Award for Creative Work (2014)