Xing-chen Pan

Ph.D.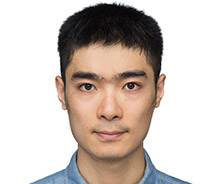 Job
Specially Appointed Assistant Professor
Group
Materials Physics Group
Laboratory
Y.P. Chen-Kumatani Group
Address
Room 3B, AIMR Main Building, Katahira Campus
(2-1-1, Katahira, Aoba-ku, Sendai 980-8577)
Tel
+81-22-217-6173
E-Mail
xingchen.pan.a2@tohoku.ac.jp
Research Interests
Finding (experimentally establishing) new topological or quantum materials.
Electrical properties of topological insulators, topological metals and two-dimensional materials.
Main Publication List
Xing-chen Pan et al., Pressure-driven dome-shaped superconductivity and electronic structural evolution in tungsten ditelluride. Nature Commun. 6, 7805 (2015).
Xing-chen Pan et al., Carrier balance and linear magnetoresistance in type-II Weyl-semimetal WTe2. Front. Phys. 12(3), 127203 (2017).