Shigemi Mizukami

Principal Investigator, Ph.D.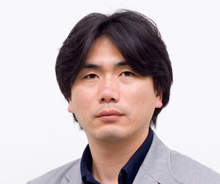 Job
Professor
Group
Device/System Group
Laboratory
Mizukami Laboratory
Address
Room 320, AIMR Annex Building, Katahira Campus
(2-1-1, Katahira, Aoba-ku, Sendai 980-8577)
Tel
+81-22-217-6003
E-Mail
shigemi.mizukami.a7@tohoku.ac.jp
Related Site
Research Interests
Spin (wave) dynamics and devices (1997-)
Spintronics materials (2005-)
Tunnel magnetoresistive devices (2008-)
Organic magnetoresistive devices (2010-)
Magnetic sensors for medical application (2011-)
Main Publication List
Composition dependence of magnetic properties in perpendicularly magnetized epitaxial thin films of Mn-Ga alloys, S. Mizukami et al. Phys. Rev. B 85, 014416 (2012).
Long-lived ultrafast spin precession in manganese alloys films with large-perpendicular magnetic anisotropy, S. Mizukami et al. Phys. Rev. Lett. 106, 117201 (2011).
Fast magnetization precession observed in L10-FePt epitaxial thin film, S. Mizukami et al. Appl. Phys. Lett. 98, 052501 (2011).
Gilbert damping in perpendicularly magnetized Pt/Co/Pt films investigated by all-optical pump-probe technique, S. Mizukami et al., Appl. Phys. Lett. 96, 152502 (2010).
Effect of spin diffusion on Gilbert damping for a very thin permalloy layer in Cu/permalloy/Cu/Pt films, S. Mizukami et al. Phys. Rev. B, 66, 104413.1-9 (2002).
Award
Outstanding Research Award; The Magnetics Society of Japan (2005)
Award for Encouragement of Research of Applied physics; Department of Applied physics, Tohoku University (2001)
Related Information