[1/29] The 8th WPI-AIMR Joint Seminar in FY2015
The 8th WPI-AIMR Joint Seminar in FY2015
Title
Design of Protein Assemblies toward Biohybrid Solid Materials
Speaker
Prof. Takafumi Ueno
(Department of Biomolecular Engineering, Tokyo Institute of Technology)
Date
January 29 (Fri.), 2016 16:00-17:00
Venue
Seminar Room, 2nd floor, WPI-AIMR Main Bldg.
Abstract
Design of self-assembled protein materials with highly ordered nanostructures represents growing interest for application in material science and bionanotechnology. Protein assemblies can provide attractive chemical structures, such as cages, tubes, and crystalline materials, which are utilized as molecular templates for catalytic, therapeutic, imaging application both inside living cells and in aqueous media. Recently, we are focusing on functionalizing protein crystals as solid materials. Protein crystals have been increasingly investigated as solid materials because they present highly ordered 2D and 3D arrangements of protein molecules in the solid state and thus have significant potential for use in applications as new porous materials that allow the precise arrangement of exogenous compounds by metal coordination and chemical conjugation in the solvent channels. I would like to present that engineering of protein crystal will lead to remarkable advances in the field of materials science.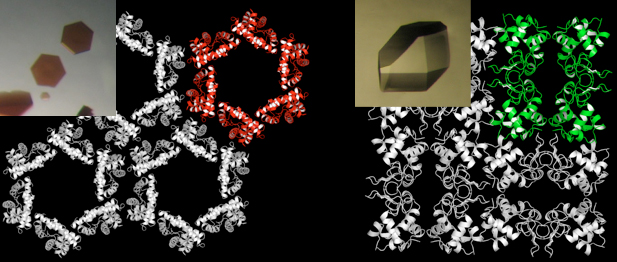 (1) S. Abe, et al. Adv. Mater. 27, 7951-7956 (2015).
(2) S. Abe and T. Ueno, RSC Advances, 5, 21366-21375 (2015).
(3) T. Koshiyama, et al., Angew. Chem. Int. Ed., 50, 4849-4852 (2011).
Contact
International Academic / Research Cooperation Section
| | |
| --- | --- |
| Address : | 2-1-1, Katahira, Aoba-ku, Sendai, 980-8577 |
| TEL : | +81-22-217-5971 |
| E-MAIL : | aimr-int@grp.tohoku.ac.jp |