Miho Yamauchi

Ph.D.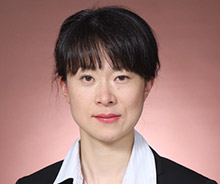 Job
Professor
Group
Device/System Group
Address
International Institute for Carbon-Neutral Energy Research, Kyushu University
(744 Motooka, Nishi-ku, Fukuoka 819-0395)
Tel
+81-92-802-6874
E-Mail
miho.yamauchi.a3@tohoku.ac.jp
yamauchi@i2cner.kyushu-u.ac.jp
Related Site
Research Interests
Nanomaterials, Catalysis, Hydrogenation, Energy conversion, Electrolysis
Main Publication List
"Electrosynthesis of amino acids from biomass-derivable acids on titanium dioxide", Chem. Commun., (2019), 14721-14724, T. Fukushima, M. Yamauchi
Electroreduction of Carbon Dioxide to Hydrocarbons Using Bimetallic Cu-Pd Catalysts with Different Mixing Patterns, J. Am. Chem. Soc., 139 (2017), 47-50. S. Ma, M. Sadakiyo, M. Heima, L. Raymond, R. T. Haasch, J. I. Gold, M. Yamauchi, P. J. A. Kenis.
CO2-free electric power circulation via direct charge and discharge using the glycolic acid/oxalic acid redox couple, Energy Environ. Sci., 8 (2015) 1456-1462, R. Watanabe, M. Yamauchi, M. Sadakiyo, R. Abe and T. Takeguchi.
Highly Selective Ammonia Synthesis from Nitrate with Photocatalytically Generated Hydrogen on CuPd/TiO2, J. Am. Chem. Soc., 133 (2011) 1150–1152, M. Yamauchi, R. Abe, T. Tsukuda, K. Kato, M. Takata
Nanosize Effects on Hydrogen Storage in Palladium, J. Phys. Chem. C, 112 (2008) 3294–3296, M. Yamauchi, R. Ikeda, H. Kitagawa, M. Takata.