Hirotomo Nishihara

Principal Investigator, Ph.D.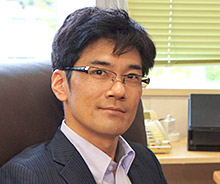 Job
Professor
Group
Device/System Group
Laboratory
Nishihara Laboratory
Address
Room 2403, 4th floor, East building 2, Katahira Campus
(2-1-1, Katahira, Aoba-ku ,Sendai 980-8577)
Tel
+81-22-217-5625
E-Mail
hirotomo.nishihara.b1@tohoku.ac.jp
Related Site
Research Interests
Porous materials, Adsorption, Energy storage/conversion
Main Publication List
Keita Nomura, Hirotomo Nishihara,* Masanori Yamamoto, Atsushi Gabe, Masashi Ito, Masanobu Uchimura, Yuta Nishina, Hideki Tanaka*, Minoru T. Miyahara, Takashi Kyotani "Force-driven reversible liquid-gas phase transition mediated by elastic nanosponges", Nat. Commun., 10, 2559, 2019
Keita Nomura, Hirotomo Nishihara,* Naoya Kobayashi, Toshihiro Asada, Takashi Kyotani "4.4 V supercapacitors based on super-stable mesoporous carbon sheet made of edge-free graphene walls", Energy Environ. Sci., 12, 1542-1549, 2019.
Hirotomo Nishihara,* Tetsuya Hirota, Kenta Matsuura, Mao Ohwada, Norihisa Hoshino, Tomoyuki Akutagawa, Takeshi Higuchi, Hiroshi Jinnai, Yoshitaka Koseki, Hitoshi Kasai, Yoshiaki Matsuo, Jun Maruyama, Yuichiro Hayasaka, Hisashi Konaka, Yasuhiro Yamada, Shingi Yamaguchi, Kazuhide Kamiya, Takuya Kamimura, Hirofumi Nobukuni, Fumito Tani, "Synthesis of ordered carbonaceous frameworks from organic crystals", Nat. Commun., 8, 109, 2017.
Zheng-Ze Pan, Hirotomo Nishihara,* Shinichiroh Iwamura, Takafumi Sekiguchi, Akihiro Sato, Akira Isogai, Feiyu Kang, Takashi Kyotani, and Quan-Hong Yang* "Cellulose Nanofiber as a Distinct Structure-Directing Agent for Xylem-Like Microhoneycomb Monoliths by Unidirectional Freeze-Drying", ACS Nano, 10, 10689-10697, 2016.
Hirotomo Nishihara*, Tomoya Shimura, Shunsuke Kobayashi, Keita Nomura, Raul Berenguer, Masashi Ito, Masanobu Uchimura, Hiroshi Iden, Kazuyuki Arihara, Atsushi Ohma, Yuichiro Hayasaka, Takashi Kyotani "Oxidation-Resistant and Elastic Mesoporous Carbon with Single-Layer Graphene Walls", Adv. Funct. Mater., 26, 6418-6427, 2016.
Award
2020 Step-up Award of Japan Association for Chemical Innovation (JACI) "Developing multiscale application of porous materials with flexible deformation characteristic." (2020)
Gottfried Wargener Prize 2019 (German Chamber of Commerce and Industry in Japan) "Development of advanced template techniques for functional carbon materials" (2019)
Publons Peer Review Awards 2018 (2018)
Young Researcher Award (The Japan Society on Adsorption) "Nanospace Control of Carbon Materials and Their Applications" (2016)
BCSJ Award "Large Pseudocapacitance in Quinone-Functionalized Zeolite-Templated Carbon" (2014)
Related Information