Rana Mohtadi

主任研究者 Ph.D.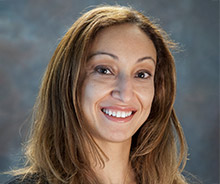 | | |
| --- | --- |
| 職名 | AIMR主任研究者 |
| グループ | デバイス・システムグループ |
| 研究室 | Rana Mohtadi研究室 |
| E-Mail | rana.mohtadi@yahoo.com |
| 関連サイト | |
研究テーマ
Energy storage and hydrogen
Beyond Li-ion batteries
Energy conversion
Electrochemistry
Inorganic chemistry
主要業績
R. Mohtadi*, O. Tutusaus, T. S. Arthur, Z. Zhao-Karger, M. Fichtner. The metamorphosis of rechargeable magnesium batteries. Joule, 5, 581, 2021.
R. Mohtadi*, "Beyond typical electrolytes for energy dense batteries," Molecules 25, 1791, 2020.
H. Dong, O. Tutusaus, Y. Liang, Y. Zhang, Z. Lebens-Higgins, W. Yang, R. Mohtadi*, Y. Yao*, High-power Mg batteries enabled by heterogeneous enolization redox chemistry and weakly coordinating electrolytes, Nature Energy, 5, 1043-1050, 2020.
M. Kar, O. Tutusaus, D. R. MacFarlane, R. Mohtadi*. "Novel and versatile room temperature ionic liquids for energy storage". Energy Environ. Sci.,12, 566, 2019
R. Mohtadi* and S.-I. Orimo*, "The renaissance of hydrides as energy materials," Nature Reviews Materials 2, 16091, 2017
受賞歴
Elected Chair for the Gordon Research Conference GRC "Hydrogen-Metal Systems" in 2025.
Showcased in the "We Run on Brain Power" Pure Michigan Campaign, 2015.
The profile is part of an initiative announced by Michigan State governor that highlights the state's talent, opportunities, and innovation.
Named in the "40 Under 40" by Automotive News, April 2014.
Named in Crain's "40 Under 40", Crain's Detroit Business, October, 2014.
R&D 100 Award 2011; "Porous Walled, Hollow Glass Microspheres", Materials Sciences.