Once atoms are condensed to form a molecule or a solid,
rich physical properties that are far beyond our imagination can emerge.
Suppose building up a condensed material by collecting atoms and bonding them one by one. New electronic properties will immediately appear after two atoms bond each other. Increasing the number of atoms further. for example. from a few to millions. will result in far more different exotic electronic properties.
Our group aims to explore novel physical properties of condensed materials by addressing their atomic and electronic structures. This includes the interaction induced by a network of condensed materials or the interface phenomena between different materials. In addition to their basic physics, we further focus on their technological applications that are beneficial for our everyday life.
For this purpose. we carefully design and fabricate atomically-controlled nanostructures or thin films. and study the electronic properties of these atomically-engineered structures with high energy and spatial resolution, using scanning tunneling microscopy. transmission electron microscopy. photoemission spectroscopy. and etc.
By combining these techniques and bulk sensitive probes such as transport and magnetization measurements. we open up new frontiers for condensed matter science from both microscopic and macroscopic point of views.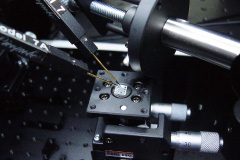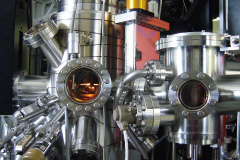 .

2014.11.10

A paper of "Epitaxial Thin Film Growth of LiH using a Liquid-Li Atomic Template" accepted for publication in Applied Physics Letters.
2014.11.06

A paper of "Imaging the evolution of d-states at a strontium titanate surface" accepted for publication in Journal of the American Chemical Society.
2014.11.04

A paper of "Direct observation of Dirac cone in multilayer silicene intercalation compound CaSi2" accepted for publication in Advanced Materials.
2014.8.28

A paper of "Bottom-Up Graphene Nanoribbon Fabrication Reveals Chiral Edges and Enantioselectivity" accepted for publication in ACS Nano.
2014.5.24

A paper of "Fabrication of all-solid-state battery using epitaxial LiCoO2 thin films" accepted for publication in Journal of Power Sources.
2014.4.22

Results about SrTiO3 appeared in Nikkei Sangyo Shimbun and Nikkan Kogyo Shimbun.
2014.2.24
2014.2.24
2013.09.30

Results about LiCoO2 appeared in Nihonkeizai Shimbun and Nikkei Sangyo Shimbun.
2013.09.05
2013.07.12

Results about Lithium Manganese Oxide appeared in Nikkei Sangyo Shimbun and Nikkan Kogyo Shimbun.
2013.06.21
2013.06.18
2013.04.01
2013.03.31
2013.03.31
2012.09.25
2012.03.09
.