Venue
There is snow as far as
the eyes can see.
Introducing Zao
Mount Zao (蔵王山, Zaōsan) is a volcanic mountain range on the prefectural border between Yamagata and Miyagi Prefectures in the Tohoku Region. On the Yamagata side, the hot spring town of Zao Onsen offers some of the country's most acidic thermal waters.
While in winter, Zao Onsen turns into a leading ski resort and one of only few places in Japan to see "snow monsters" (frozen trees).
Reference
[japan-guide.com] https://www.japan-guide.com/e/e7925.html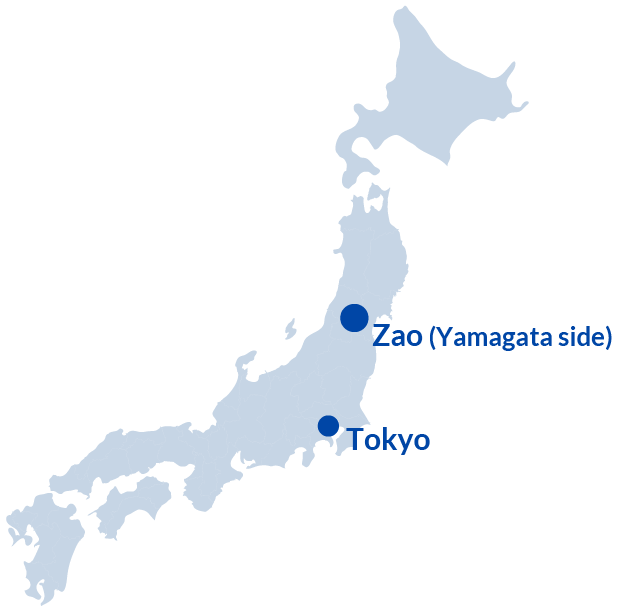 Where is it held?
Venue Information
TAKAMIYA RESORT RURIKURA

A Western-style resort hotel with an all-year-round view of nature.
Spin mechanics 6 will be held at convention room in this hotel.
address

1118-7 Zao Onsen Sandogawa, Yamagata-City, YAMAGATA 990-2301 JAPAN

phone

+81-23-694-2520

email

rurikura@zao.co.jp
Free shuttle bus to Zao from Yamagata station

We have free shuttle bus to Zao Onsen from Yamagata station. 14:00, 15:00, 16:00
Monday, 25th Feb
Map of Yamagata station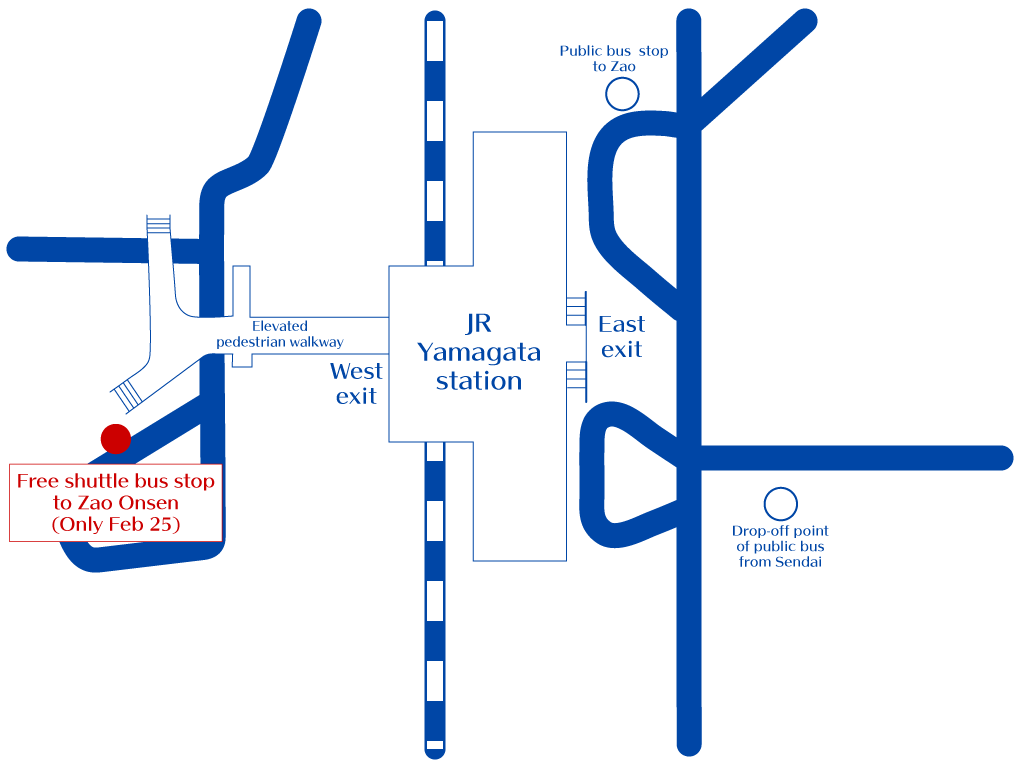 the Best Things to Do in Zao.
Outdoor Activities
You can get here in about 3 hours
from Tokyo.
Directions
via Narita Airport


1. Narita AirportTokyo Station

by JR Narita Express
Direct / 60 minutes / around 3000 yen / 1-2 connections per hour
The most comfortable way of travel between Narita Airport and Tokyo Station is the JR Narita Express (NEX). The one way journey takes roughly one hour, costs around 3000 yen and is fully covered by the Japan Rail Pass, JR Tokyo Wide Area Pass and some other JR passes. There are departures every 30 to 60 minutes. The NEX Tokyo Round Trip Ticket for 4000 yen provides foreign travelers with a discounted round trip from the airport into Tokyo and back within a 2-week period.

Reference


[japan-guide.com] https://www.japan-guide.com/e/e2027.html

2. Tokyo StationZao

by train and bus via Yamagata

train

2.5 hours / around 11000 yen / one train per hour

bus

40 minutes / 1000 yen / one bus per hour

Take the JR Yamagata Shinkansen from Tokyo to Yamagata (2.5 hours, around 11,000 yen, one train per hour) and transfer to a bus to Zao Onsen (40 minutes, 1000 yen, one bus per hour). The train ride is covered by the Japan Rail Pass, JR East Tohoku Area Pass and JR East South Hokkaido Pass, but the bus ride is not.

Reference


[japan-guide.com] https://www.japan-guide.com/e/e7926.html
via Haneda Airport


1. Haneda AirportYamagata Airport

by Japan Airlines(JAL)
60 minutes / around 11000 yen / 2 connections a day
Japan Airlines flies from Tokyo Haneda Airport (HND) to Yamagata Airport (GAJ) twice daily.

Reference


[Rome2rio] https://www.rome2rio.com/s/Tokyo-Haneda-Airport-HND/Yamagata-Airport-GAJ

2. Yamagata AirportZao

by bus
60 minutes / around 3000 yen / all buses connect all arrival and departure flights.
The bus bound for Zao Onsen departs after 15min airplane arrives at the airport.

Reference


[ZAO ONSEN] http://www.zao-spa.or.jp/english/access/