Kazuhito Tsukagoshi

Ph.D.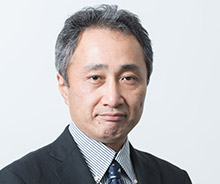 Job
Professor, WPI-AIMR
PI, WPI-MANA, NIMS
Group
Materials Physics Group
Laboratory
Thin film electronics group
Address
International Center for Materials Nanoarchitectonics (WPI-MANA), National Institute for Materials Science (NIMS)
(Tsukuba, Ibaraki 305-0044)
Tel
+81-29-860-4894
E-Mail
TSUKAGOSHI.Kazuhito@nims.go.jp
kazuhito.tsukagoshi.c3@tohoku.ac.jp
Related Site
Research Interests
Atomically-thin functional film
Single molecule crystal film
Nano-electronics
Main Publication List
Coherent transport of electron spin in a ferromagnetically contacted carbon nanotube
Kazuhito Tsukagoshi, Bruce W Alphenaar, Hiroki Ago,
Nature 401 (6753), 572-574 (1999).
Solution-processable organic single crystals with bandlike transport in field-effect transistors
Chuan Liu, Takeo Minari, Xubing Lu, Akichika Kumatani, Kazuo Takimiya, Kazuhito Tsukagoshi,
Advanced Materials 23 (4), 523-526 (2011).
Quantitative Raman spectrum and reliable thickness identification for atomic layers on insulating substrates
Song-Lin Li, Hisao Miyazaki, Haisheng Song, Hiromi Kuramochi, Shu Nakaharai, Kazuhito Tsukagoshi,
ACSnano 6 (8), 7381–7388 (2012).
Ambipolar MoTe2 Transistors and Their Applications in Logic Circuits
Yen‐Fu Lin, Yong Xu, Sheng‐Tsung Wang, Song‐Lin Li, Mahito Yamamoto, Alex Aparecido‐Ferreira, Wenwu Li, Huabin Sun, Shu Nakaharai, Wen‐Bin Jian, Keiji Ueno, Kazuhito Tsukagoshi,
Advanced Materials 26 (20), 3263-3269 (2014).
Thickness-dependent interfacial coulomb scattering in atomically thin field-effect transistors
Song-Lin Li, Katsunori Wakabayashi, Yong Xu, Shu Nakaharai, Katsuyoshi Komatsu, Wen-Wu Li, Yen-Fu Lin, Alex Aparecido-Ferreira, Kazuhito Tsukagoshi,
Nano Letters 13 (8), 3546-3552 (2013).
Awards
MEXT Young Scientists' Prize (2006)
Marubun Gakujyutu Award (2006)
JSPS prize (2013)
APEX/JJAP Editorial Contribution Award (2018)