Hiroyuki Tamura

Ph.D.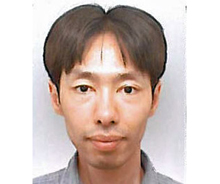 Job
Assistant Professor
Group
Materials Physics Group
Laboratory
Shluger - Akagi Laboratory
Address
Room 214, AIMR Annex Building, Katahira Campus
(2-1-1, Katahira, Aoba-ku, Sendai 980-8577)
Tel
022-217-5938
E-Mail
hiroyuki@wpi-aimr.tohoku.ac.jp
Related Site
Research Interests
Photovoltaic Systems (Organic Solar Cells, Photosynthesis)
Quantum Transports in Soft Materials
Optoelectronic Properties of Organic Materials
Main Publication List
"Laser-assisted field evaporation from insulators triggered by photoinduced hole accumulation" H. Tamura, M. Tsukada, K. P. McKenna, A. L. Shluger, T. Ohkubo, and K. Hono, Phys. Rev. B 86, 195430 (2012).
"Quantum dynamics of ultrafast charge transfer at an oligothiophene-fullerene heterojunction" H. Tamura, R. Martinazzo, M. Ruckenbauer, and I. Burghardt, J. Chem. Phys. 137, 22A540 (2012). (selected as 'Research Highlights')
"Roles of intramolecular and intermolecular electron-phonon coupling on the formation and transport of large polarons in organic semiconductors" H. Tamura, M. Tsukada, H. Ishii, N. Kobayashi, and K. Hirose, Phys. Rev. B 86, 035208 (2012).
"Exciton Dissociations at Thiophene/Fullerene Interfaces: The Electronic Structures and Quantum Dynamics" H. Tamura, I. Burghardt, and M. Tsukada, J. Phys. Chem. C. 115, 10205 (2011).
"Phonon-driven ultrafast exciton dissociation at donor-acceptor polymer heterojunctions" H. Tamura, J.G.S. Ramon, E. R. Bittner and I. Burghardt, Phys. Rev. Lett. 100,107402 (2008).