Takashi Takahashi

Ph.D.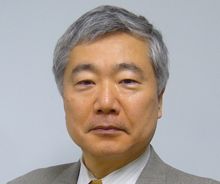 Job
Professor Emeritus
Group
Materials Physics Group
Laboratory
T. Sato Laboratory
Address
Room 210 and Room 1A, AIMR Main Building, Katahira Campus
(2-1-1, Katahira, Aoba-ku, Sendai 980-8577)
Room 313, Department of Physics,Aobayama Campus
(Aramaki-aza-Aoba, Aoba-ku, Sendai 980-8578)
Tel
+81-22-217-6169(Katahira Campus)
+81-22-795-6417(Aobayama Campus)
E-Mail
t.takahashi@arpes.phys.tohoku.ac.jp
Related Site
Research Interests
High-temperature superconductors
Graphene and related carbon nano materials
Topological insulators
Rashba effects
Spin-resolved photoemission spectroscopy
Main Publication List
Evidence from Angle-Resolved Resonant Photoemission for Oxygen-2p Nature of the Fermi-Liquid States in Bi2Sr2CaCu2O8, Nature 334 (1988) 691-692, T. Takahashi, H. Matsuyama, H. Katayama-Yoshida, Y. Okabe, S. Hosoya, K. Seki, H. Fujimoto, M. Sato, and H. Inokuchi.
Spectroscopic evidence for a pseudogap in the normal state of underdoped high-Tc superconductors, Nature 382 (1996) 51-54 H. Ding, T. Yokoya, J. C. Campuzano, T. Takahashi, M. Randeria, M. R. Norman, T. Mochiku, K. Kadowaki, and J. Giapintzakis.
Fermi-surface-dependent superconducting gap in C6Ca, Nature Phys. 5 (2009) 40-43, K. Sugawara, T. Sato, and T. Takahashi.
Experimental realization of a topological crystalline insulator in SnTe, Nature Phys. 8 (2012) 800-803, Y. Tanaka, Z. Ren, T. Sato, K. Nakayama, S. Souma, T. Takahashi, K. Segawa, and Y. Ando.
Ca intercalated bilayer graphene as a thinnest limit of superconducting C6Ca, Proc. Natl. Acad. Sci., November 8, 2012, doi: 10.1073/pnas.1208889109, K. Kanetani, K. Sugawara, T. Sato, R. Shimizu, K. Iwaya, T. Hitosugi, and T. Takahashi.
Award
Award of Superconductor Science and Technology (1999)
Award by Minister of Education, Science, and Technology (2005)
Related Information