Alka Sharma

Ph.D.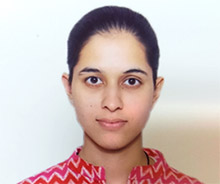 Job
Assistant professor
Group
Materials Physics Group
Laboratory
Y.P. Chen-Kumatani Group
Address
Room 5A, AIMR main building, Katahira Campus
(2-1-1, Katahira, Aoba-ku, Sendai, 980-8577)
Tel
+81-22-217-6160
E-Mail
Sharma.alka.a4@tohoku.ac.jp
Related Site
Research Interests
Two-dimensional layered materials
Quantum devices
Nano-photonics
Main Publication List
High performance broadband photodetector using fabricated nanowires of bismuth selenide, Scientific Reports,6, (2016), 19138, A. Sharma, B. Bhattacharyya, A.K. Srivastava, T.D. Senguttuvan, and S. Husale
Plasmon induced ultrafast injection of hot electrons in Au nanoislands grown on a CdS film, Journal of Materials Chemistry C5, (2016), 618-626, A. Sharma, C. Sharma, B. Bhattacharyya, K. Gambhir, M. Kumar, S. Chand, R. Mehrotra, and S. Husale.
Pt‐Nanostrip‐Enabled Plasmonically Enhanced Broad Spectral Photodetection in Bilayer MoS2, Advanced Optical Materials,5, (2017),9, R. Kumar, A. Sharma, M. Kaur, and S. Husale.
Robust ultrahigh responsivity and broadband photodetection investigated under harsh conditions in nanosheets and nanowires of Bi2Te3, Scientific Reports,7,1, (2017), 17911, A. Sharma, A. K. Srivastava, T. D. Senguttuvan, and S.Husale.
Novel synthesis of topological insulator based nanostructures (Bi2Te3) demonstrating high performance photodetection, Scientific Reports,9, (2019), 3804, A. Sharma, A. K. Srivastava, and S. Husale
Award
Japan Society for the Promotion of Science (JSPS) Post-doctoral Fellow, November 2018-December 2020, RIKEN, Japan
Senior Research Fellow (CSIR-SRF), Council of Scientific and Industrial Research, 2017-2018, India
Best Poster presentation award on National Science Day, Mar 2015 at CSIR-National Physical Laboratory, New Delhi, India.