Egon Campos Dos Santos

Ph.D.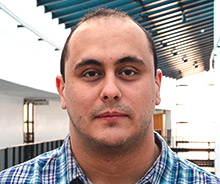 Job
Specially Appointed Assistant Professor
Group
Mathematical Science Group
Laboratory
Li Laboratory
Address
Room 4A, AIMR Main Building, Katahira Campus
(2-1-1, Katahira, Aoba-ku, Sendai 980-8577)
Tel
+81-22-217-6371
E-Mail
campos.dos.santos.egon.b6@tohoku.ac.jp
Related Site
Research Interests
Battery electrolytes
Cathodic corrosion during CO2 photochemical reduction
Environmental science and biomass transformation
Nuclear waste disposal
2D materials: from electronic to environmental application
Main Publication List
Efficient Screening of Bi-Metallic Electrocatalysts for Glycerol Valorization. Electrochimica Acta. 398 (2021) 139283, E. C. D. Santos; R. B. Araujo, M. Valter, G. Salazar-Alvarez, M. Johsson; M. Bajdich, F. Abild-Pedersen, L. G. M. Pettersson.
Electrocatalytic Glycerol Oxidation with Concurrent Hydrogen Evolution Utilizing an Efficient MoO/Pt. Catalyst. Small. 17, (2021), 2104288 X. Yu, E. C. S. Santos; J. White, G. Salazar-Alvarez, L. G. M. Pettersson, A. Cornell, M. Johsson.
Hydrogen Evolution Linked to Selective Oxidation of Glycerol over CoMoO- Theoretically Predicted Catalyst. Advanced Energy Materials 12, (2022), 2103750, X Yu, R. B. Araujo, E. C. D. Santos, A. Anil, A. Cornell, L. G. M. Pettersson, M. Johnsson.
Ab Initio Cyclic Voltammetry on Cu(111), Cu(100) and Cu(110) in Acidic, Neutral and Alkaline Solutions. Chemphyschem, 20, (2019) 3096-3105, A. Bagger, R. M. Aran-Ais, J. H. Stenlid, E. C. D. Santos, L. Anderson, K. D. Jensen; M. Escudero-Escribano, B. R. Cuenya, J. Rossmeisl.
Pyrite Oxidation Mechanism by Oxygen in Aqueous Medium. Journal of Physical Chemistry. 120 (2016) 2760-2768, E. C. D. Santos, J. M. Silva, H. A. Duarte.