Stephane Yu Matsushita

Ph.D.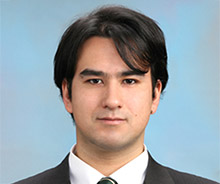 Job
Assistant Professor
Group
Materials Physics Group
Laboratory
Y.P. Chen-Kumatani Group
Address
Room 312, AIMR main building, Katahira Campus
(2-1-1 Katahira, Aoba-ku, Sendai 980-8577)
Tel
+81-22-217-6166
E-Mail
m.stephane@tohoku.ac.jp
Related Site
Research Interests
Synthesis and thin film growth of 3D-topological insulators.
Thermoelectric transport measurements.
Transport properties of topological Materials.
Main Publication List
Quantum Hall effect of Dirac surface states of as-grown single crystal flakes in Sn0.02-Bi1.08Sb0.9Te2S without gate control, Applied Physics Letters 115 (2019) 052104-1-5, K. Ichimura, S.Y. Matsushita, K.K. Huynh, K. Tanigaki.
Ultrathin film of 3D topological insulators by vapor-phase epitaxy: Surface dominant transport in wide temperature revealed by Seebeck measurement, Physical Review B 99, 195392 (2019), S.Y. Matsushita, K.K. Huynh, Katsumi Tanigaki.
Thermoelectric properties of 3D topological insulator: Direct observation of topological surface and its gap opened states, Physical Review Materials 1, 054202 (2017), S.Y. Matsushita, K. K. Huynh, H. Yoshino, N. H. Tu, Y. Tanabe, and K. Tanigaki.
Anisotropic electronic band structure of intrinsic Si(110) studied by angle-resolved photoemission spectroscopy and first-principles calculations, Physical Review B 96, 125302 (2017), S.Y. Matsushita, A. Takayama, E. Kawamoto, C. Hu, S. Hagiwara, K. Watanabe, T. Takahashi, and S. Suto.
Anisotropic surface phonon dispersion of the hydrogen-terminated Si(110)-(1x1) surface: One-dimensional phonons propagating along the glide planes, Journal of Chemical Physics 140, 104709 (2014), S.Y. Matsushita, K. Matsui, H. Kato, T. Yamada, S. Suto.
Awards
Department of Physics Prize, Tohoku University (2012)
Presentation Award, 32th Symposium of the Surface Science Society of Japan (2013)
AOBA Science promotion Society Prize, Tohoku University (2015)
General Award of Tohoku University (2015)