Akichika Kumatani

Ph.D.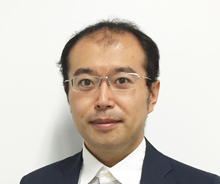 Job
Associate Professor (LEADER program)

Group
Materials Physics Group
Laboratory
Y.P. Chen-Kumatani Group
Address
AIMR main Building, Katahira Campus
(2-1-1, Katahira, Aoba-ku, Sendai 980-8577)
Tel
022-795-7281
E-Mail
akichika.kumatani.e6@tohoku.ac.jp
Research Interests
Nanoscale electrochemical imaging
2-D materials
Lithium-ion batteries and beyond
Scanning probe microscopy
Surface and Interface Science
Main Publication List
"Scanning probe microscopy for nanoscale electrochemical imaging", Y. Takahashi, A. Kumatani, H. Shiku, T. Matsue, Anal. Chem. 2016 89, 342.
"Nanoscale visualization of redox activity at lithium-ion battery cathodes" Y. Takahashi, A. Kumatani et al., Nat. Commun. 2014 5:5450.
"On practical charge injection at the metal/organic semiconductor interface" A. Kumatani et al., Sci. Rep., 2013, 3, 1026.
"Solution-processed, self-organized organic single crystal arrays with controlled crystal orientation" A. Kumatani et al., Sci. Rep., 2012, 2, 393.
"Growth processes of lithium titanate thin films deposited by using pulsed laser deposition" A. Kumatani, et al., Appl. Phys. Lett., 2012, 101, 123103.
Award
POSTER AWARDS, 63rd JSPS Spring meeting, 2016.
Young Scientist Presentation Award, 61st JSPS Spring meeting, 2014.
IRC in Nanotechnology studentship, 2004.
Related Information