Akichika Kumatani

Ph.D.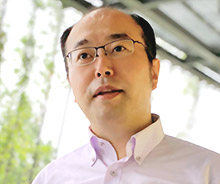 Job
Associate Professor
Tohoku University Distinguished Researcher
JST PRESTO Researcher (Concurrent Post)
NIMS Invited Researcher (Concurrent Post)
UCL MAPS Fellow
Group
Materials Physics Group
Laboratory
Y.P. Chen-Kumatani Group
Address
Room 209/210/5A, AIMR Main Building, Katahira Campus
(2-1-1, Katahira, Aoba-ku, Sendai 980-8577)
Tel
+81-22-217-6159
E-Mail
akichika.kumatani.e6@tohoku.ac.jp
Research Interests
Nanoscale electrochemical imaging
2-D materials
Lithium-ion batteries and beyond
Scanning probe microscopy
Surface and Interface Science
Main Publication List
"Recent advances in scanning electrochemical microscopic analysis and visualization on lithium-ion battery electrodes", A. Kumatani et al., Current Opinion in Electrochemistry, 22 228, 2020.
"High‐Resolution Electrochemical Mapping of the Hydrogen Evolution Reaction on Transition‐Metal Dichalcogenide Nanosheets", Y. Takahashi et al., Angewandte Chemie International Edition 59 (9), 3601, 2021.
"Chemical Dopants on Edge of Holey Graphene Accelerate Electrochemical Hydrogen Evolution Reaction", A. Kumatani et al., Advanced Science, 6 190019, 2019.
"Scanning electrochemical cell microscopy for visualization and local electrochemical activities of lithium-ion (de)intercalation process in lithium-ion batteries electrodes", A. Kumatani et al., Surface and Interface Analysis, 51 27, 2019.
"Nanoscale visualization of redox activity at lithium-ion battery cathodes" Y. Takahashi, A. Kumatani et al., Nature Communications 2014 5:5450.
Award
UCL MAPS Visiting Fellowship (2022)
Tohoku University Distinguished Researcher (2020)
King's STEM Distinguished Alumni Award (2020)
Commendation for Science and Technology by MEXT (2019)
Related Information